Recipe for Apple Cake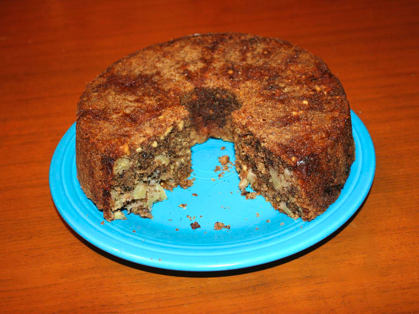 I first had this many years ago just after my brother-in-law's funeral; it was made and shared with our family by my sister's neighbor. We loved it so much we obtained the recipe and have made it ever since. We have come to adjust it slightly over the years, so I'll share the original recipe with our comments in parentheses. This is very easy to make and quite delicious! It is a welcome complement to any meal or occasion… or in this case, great as yesterday afternoon's snack! We all gathered around to enjoy it and shared some nice fellowship during our busy day. Now it will disappear as breakfast food and then as dessert warmed up with vanilla ice cream. Give this recipe a try and you'll see how quickly it can evaporate!
Best Apple Cake recipe
3-4 cups chopped apples
2 cups all purpose flour (we now use 2 cups organic sprouted spelt flour)
2 cups sugar
1 cup oil (we prefer butter)
3 eggs
1 teaspoon baking soda
1 teaspoon salt
1 teaspoon cinnamon
1 1/2 cups chopped walnuts or pecans (the original cook said these were optional; we'd say they are essential unless you can't eat them)
Preheat oven to 325˚F. Grease and flour a bundt pan.

Place all ingredients in a large bowl and stir well.

Pour batter in bundt pan and bake for 1 hour or until a toothpick comes out clean.

Leave pan to cool for at least 10 minutes.

Remove cake from pan and cool on wire rack.
This makes 12-16 servings. Enjoy!