Book Review: The War of Art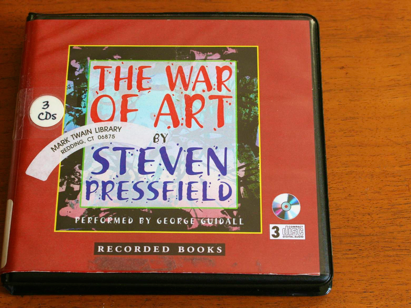 Wow! It's been a long time since a book has impacted me so much. This is should be mandatory reading not for just artists but for anyone who wants to accomplish any good endeavor. The first third of the book defines resistance, and I bet there's a corner chock full of resistance you'd be benefited from removing from your life. For me it is exercise or cleaning my office, for you it may be opening the plumbing supply company of your dreams.
This book was recommended by a blog reader (thank you SO MUCH Susan!) and as I don't feel like a "blocked" artist, I was dubious about it's relevance to my life. Wrong! This is relevant for anyone who finds themselves in the wonderful but perplexing condition of being human. It is mostly about how to get out of your own way and assist yourself in becoming whoever you were meant to be.
Some things are said here differently than I would have said them but the essence is still golden. One could benefit from reading this short, powerful book on a quarterly basis, thereby compounding the blessings it offers, since it's significance is amplified by review and application. I want a print copy to mark up and quote.
Whether you feel stuck or not, this extraordinary book can help you move past lurking resistance to fully embrace what you have to offer. I give this incredible book a vigorous five stars! I highly recommend it. I'm so grateful it crossed my path; you won't want to miss out on it either. Yes, you can win that war you've been having with yourself!