Spring Meals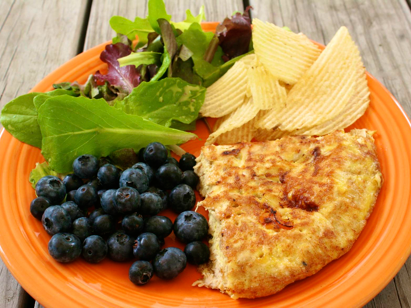 Here are some of the meals we've had lately. We've been inundated with fresh greens from several local gardens recently, as everything here is on the early side of the growing season.
Above is the tuna frittata, fresh greens, blueberries and chips I had for lunch today. Below in respective order find:
• Lemon Pepper Tilapia (with leftover tuna mac&cheese, and salad)
• Salmon Salad with blueberries
• Baked Shrimp with Tomatoes & Feta (click here for the reicpe) with fresh mango and strawberries
• Tilapia, avocado and cheese sandwich with baby fresh greens
• Fish Chowder with salad and apples
• Lettuce Soup with veggie sausages
• Salmon Teriyaki with fresh greens and homemade herb bread
• Falafel sandwich with our favorite Green Soup (click here for the recipe)
It has been a delight to be eating often at the picnic table again. Soon we'll have garden strawberries! Yum!