Book Review: 1001 Children's Books You Must Read Before You Grow Up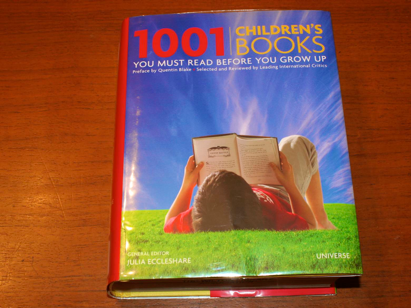 I know my children's books well enough to endorse the choices they have made here. The books it recommends are well reviewed, and placed in age order as well as order of difficulty, along with wonderful reproductions of artwork from the original editions. The age range here starts in preschool and extends all the way through high school. Among all of our favorites, I was delighted to be exposed to some titles I had not heard of!
I checked this out of the library to jump start my planning for my thirteen year old's homeschooling reading for next year. I found historical fiction to fit in with the time period she'll be studying, as well as fictional literature that I know she'll like but hasn't read, some books that I'll require to round her out, and also some read-aloud titles for us to enjoy together.
This hefty book would be a thoughtful gift for a baby shower or for any parent who wants their children to enjoy reading. It would also be a good resource for generous grandparents or relatives, to assist in buying good books for the kids in their lives.
Well done; I give it five stars. I'll be checking it out again, before my youngest is fully grown!