Today's Earth Day Poem By Me With Photos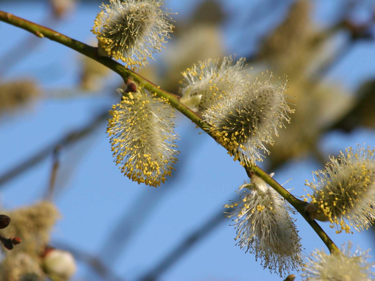 On Earth Day
Often we think of earth's
jaggedly impassable, impressive mountain precipices,
or a raging volcano's seething lava, surging mercilessly down hill,
or the intensely glaring heat waves shrouding remote, windswept deserts,
or hulking blue ice sheets crashing precipitously into chill Arctic oceans,
or the devastating power of a hurricane, earthquake, tornado or tsunami —
all incredibly awesome
and not manmade.
In the face of those things we feel defenseless.
But our earth is so tender.
Today on Earth Day,
I would turn your thoughts and awareness
to pussy willows and catkins
to the innocent, downy, seasonal unfoldment,
so delicate on its renewable cycle.
Balanced blossoms bringing forth
leaves —
intricate and detailed by design,
amazing
not to be taken for granted
not to be messed with.
Defenseless leaves
breathe in our pollutants,
cleansing our audacity
as we do not seem to be able to
leave
well enough alone.
Enjoy our beautiful planet today
but all year long
defend it
protect it
and most of all
leave it
better than you found it
for generations (and buds) to come.
Polly Castor 4/22/09