Featured Artist: Constance Bacon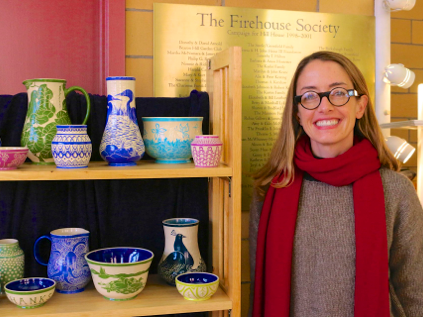 I have been working in the pottery studio on sgraffito pots which you saw here on this blog. I was so enthused by this process that I researched other artists that do this kind of work and found really only two artists, one from Maine who does really detailed work in black and white that looks more like scrimshaw, and Constance Bacon whose work I absolutely love. Connie lives in Massachusetts.
While drooling over her work on the internet, I noticed she was having a show in an old firehouse in Beacon Hill the weekend I was in Boston for our daughter to attend MIT SPLASH! So, to my delight, I met her today and she is terrific. Her work is beautiful, as you can see here. Can you believe she doesn't draw out her designs in advance? She does all these by winging it.
She was glad to meet a fan, and was exceedingly kind in giving me some tips. I look forward to watching her work in the years to come.