Recipe: Lillie's Corn Cheese Pudding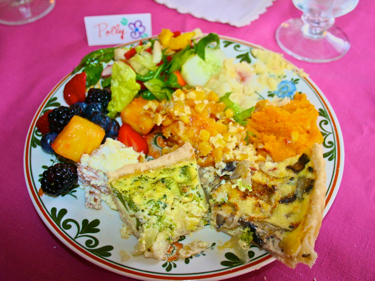 Well, I didn't think about taking this picture until after I had started eating…  In the middle of the plate is Texas cousin Lillie's Corn Cheese Pudding. I just loved it.  She got the recipe from her sister-in-law's family cookbook, so Sunny deserves some credit too.  Lillie says this is an easy staple in her house, and I hope to make it one in ours too.  Yum!  Here is the recipe:
Lillie's Corn Cheese Pudding
2 17 oz cans whole kernel corn (if you omit optional ingredients)
(or use only 1 can if you use the optional ingredients)
1 jar pimento (optional)
1 cup (4 oz) shredded medium cheddar cheese
1 medium sized green pepper chopped (optional)
2 eggs slightly beaten
1/2 cup milk
2 Tbsp flour
2 Tbsp sugar
2 Tbsp butter softened
1 tsp salt
Combine all ingredients and mix well.
Pour into 1.5 quart greased casserole.
Bake at 350˚F for 45 – 50 minutes.
Serves 4 to 6. Serve right out of the oven.
Enjoy!