Movie Review: Mr. Popper's Penguins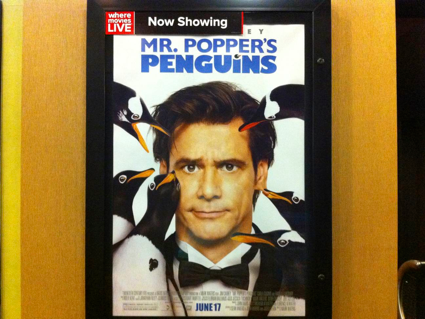 I loved this movie and give it a surprising five stars. We loved the book and this movie is entirely different than the book, but it was great none-the-less. Although often implausible (where did all that water go that gushed out of the bathroom, with the apartment tidy soon after, the envelope untouched, and the neighbors not experiencing huge leaks?), it was thoroughly entertaining.
My favorite scenes were the one in the Guggenheim and the one with the kite into the moonroof. You'll be glad you saw it. Stay to the end of the credits for, "No animals were harmed in making this movie, however Jim Carey was mercilessly pecked. But he had it coming." Additionally, my daughter tells me grand stories about how the penguins were trained for this film. This film was totally fun and is destined to be a classic!