Cauliflower and Acorn Squash Risotto Recipe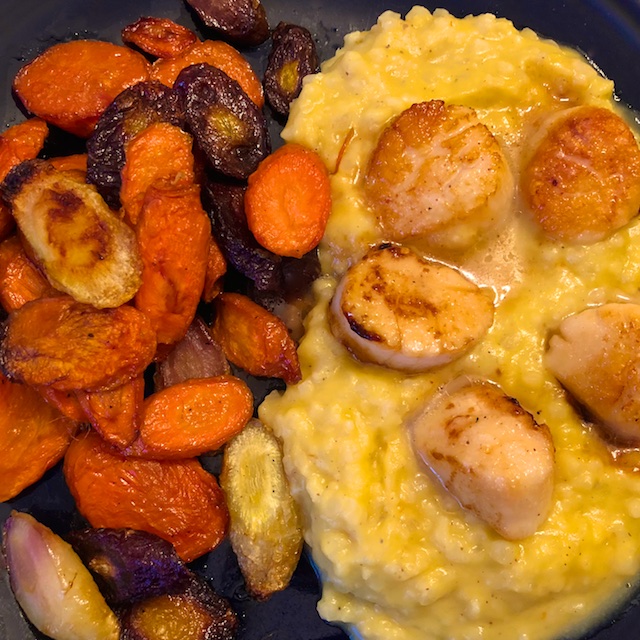 This side dish is way more delicious than it looks in my photo above. It is not difficult to make nor particularly involved time-wise, and it is lighter and more flavorful than traditional risottos made with rice.
It is the perfect base to put protein on. Above you can see we had it with seared scallops, and below we put tilapia with roasted tomato sauce over the leftover risotto, which kept beautifully in the refrigerator. That was wonderful as well.
Cauliflower and Acorn Squash Risotto Recipe
1 acorn squash
3 cups cauliflower rice (I use Costco organic frozen)
1 can full fat coconut milk (I use Trader Joe's)
1/2 teaspoon garlic powder
1/2 teaspoon onion powder
1/2 teaspoon white pepper
1/2 teaspoon freshly ground black pepper
1/2 teaspoon salt
1/2 teaspoon red pepper flakes
Preheat oven to 400ºF.
Cut the acorn squash in half, and place it cut side down in a baking pan. Bake for 30 minutes, and once soft, use a spoon to remove the seeds.
While the squash is cooking, make the cauliflower rice. I do this by putting a couple tablespoons of water with the still frozen cauliflower rice in a pan on medium low, stirring occasionally.
In a separate sauce pan over medium heat combine the coconut milk, garlic powder, onion powder, white pepper, black pepper, red pepper flakes and salt. Stir until warm and infused. Then put this mixture in the blender with the baked acorn squash and puree until smooth.
Add what is in the blender to the cooked cauliflower squash, and voila, deliciousness.
Serve immediately and enjoy.