Gluten-Free Stuffing Recipe for Thanksgiving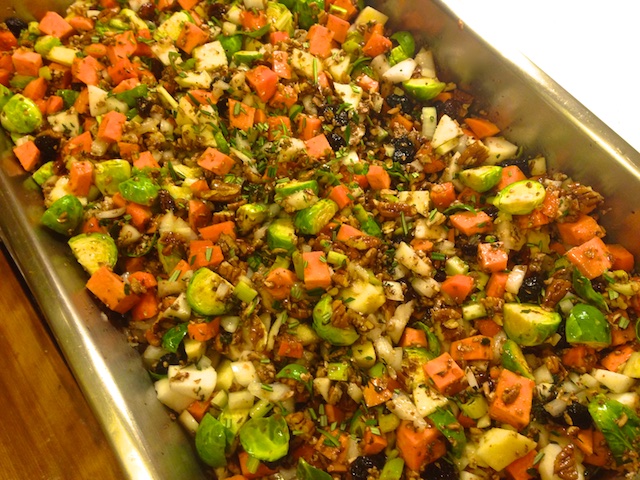 I made a batch of this last night for dinner with the intent of serving the leftovers on Thanksgiving. If you have any gluten free people (or vegans or vegetarians) at your Thanksgiving table, they will appreciate this alternative to a bready stuffing. I almost called it "unstuffing" since of course it is never stuffed in the turkey, but is simply an easy and good vegetable side dish of similar consistency.
In the last photo below, you can see it on our plates last night. (By the way the recipe for the kale salad on that plate is here on the blog.)
The photo above is this non-stuffing uncooked, then the one below is of it after it was cooked. I also show a photo of the size of the mushroom bits in the Cuisinart for your reference. You could slice the mushrooms if you wish; pulsing them just helps the consistency of the dish hang together better.
This makes about 16 servings, so if you have fewer guests, you might want to make a half recipe. I have a huge stainless steel roasting pan that this fit in, but two average sized pyrex pans will work as well.
Thanksgiving Gluten-Free Stuffing
2 sweet potatoes, cubed
3 cups brussels sprouts, stems trimmed off and cut in half
4 carrots, diced
4 celery, diced
12 ounces mushrooms, pulsed in a food processor
1 onion, diced
4 cloves garlic, minced
2 apples, cored and diced
1 cup unsweetened dried cranberries
4 teaspoons fresh thyme
2 teaspoons fresh rosemary, minced
1 teaspoon chili powder
2 teaspoons sea salt
1 cup chopped pecans
1/2 cup avocado oil
Preheat oven to 375ºF.
Combine all ingredients and toss well.
Bake covered for 40 minutes.
Stir, and cook with cover removed for 20 minutes more.
Serve immediately.