A Visit to Our Younger Daughter's College Ceramics Studio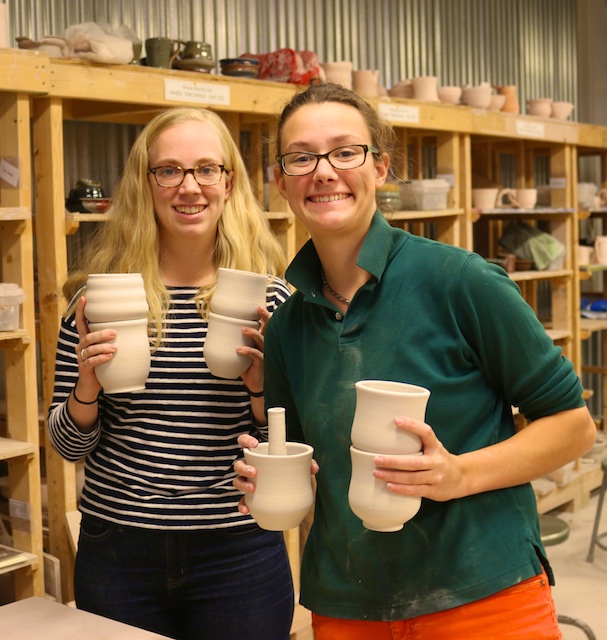 Yesterday, our oldest daughter (visiting from California) and I drove the five hours (and back) to bring our younger daughter/sister home for Thanksgiving. Our oldest tagged along since she had never seen our youngest's college before. Including a tour of the campus, and the wood kiln our youngest helped build last year, we got to see the latest of what she's doing in the pottery studio.
She's taking "Wheel Throwing II" this semester along with a heavy load of Physics classes. This three credit pottery class demands about 30 hours per week in the ceramics studio.  She's thrown huge platters (see those in the foreground in the photo I got her to wave in as a size reference), pitchers, lidded vessels, mugs, cups, and tall vessels. In these photos you see things at all ranges of completion.
A lot of this is difficult to do. For example centering enough clay for a platter bigger than 20 inches is next to impossible. But it is the sheer quantity and quality of what she has accomplished in a two and a half months that I find staggering.
Again, I am so grateful for all the good she's experiencing in her college experience. And I'm also glad her sister both wanted to see her sister's college and was able to. We had a lovely day, chatting and belting out hymns at the top of our lungs on the dark highway on the way home. I'm profoundly grateful to be friends with these awesome women!