Recipe: Gougere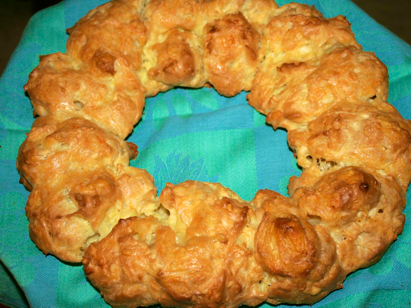 Gougère is a fabulous puffy cheese bread, tasting kind of like a cheesy popover. This is one of the ways we treat ourselves special during the holidays. This recipe is from Julia Child, The Way to Cook cookbook. It is not so hard to do but completely divine! Thank you, James, for this!
Gougère Recipe

1 cup water
¾ stick butter (6 TBSP)
1 tsp salt
1 cup flour
1¼ cup grated Swiss or Jarlsburg cheese
1 cup eggs (about 5 large eggs) well beaten
Preheat oven to 425ºF.
In 3 quart sauce pan, boil water, salt and butter until butter is melted.
Remove from heat and add flour. Mix thoroughly and return to heat for 1-2 minutes to help evaporate excess moisture so eggs will be absorbed better.
Empty flour mixture into a large mixing bowl and stir for a minute or two to cool. Add eggs 1/3 cup at a time until completely blended. This may take a while and will look very globular for a bit. Keep stirring.
After all the eggs are mixed in, stir in 1 cup of the cheese. On a buttered cookie sheet, place tablespoons of batter arranged in a circle with edges touching. Sprinkle remaining cheese on top.
You may also make little individual gougères by placing spoonfuls on the baking sheet about two inches apart from each other. This method is good for appetizers to pass around at a party.
Bake for 20 minutes at 425ºF. Reduce to 400ºF and bake for an additional 10 minutes.
Serve immediately, pulling off sections by hand.
Yum! Give it a try!