Recipe: Pumpkin Bread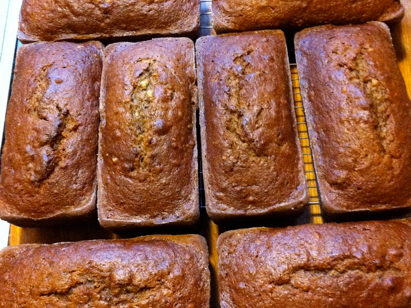 This is one of our favorite family recipes. It comes from my husband's Aunt Ruth, although we use a proportion of whole wheat flour I do not believe was in the original recipe. My youngest daughter has made enough money to buy a good bicycle cooking this for devoted fans. Today, my husband made a double batch: two loaves got mailed to our daughter at college, and several went toward my youngest daughter's Destination Team as they work hard counting down toward an important impending deadline. The house smells absolutely amazing while these are cooking, and they freeze well too, even pre-sliced. This makes a great side, a good snack with tea, or a perfect breakfast on the run.
Pumpkin Bread Recipe
2 1/2 cups whole wheat flour (I use organic sprouted spelt flour now)
1 cup white flour
3 cups sugar
2 teaspoons soda
1 teaspoon nutmeg
1 teaspoon cinnamon
4 eggs
1/2 cup applesauce
1/2 cup melted butter
1 small can pumpkin
2/3 cup water
1 cup ground nuts
1 cup chopped dates
Preheat oven to 350˚F.
Mix all together by hand.
Bake in 4 one pound loaf pans, greased and floured.
Bake 40 minutes to 1 hour until toothpick comes clean.
Enjoy!