Connecticut Clay Artist's Show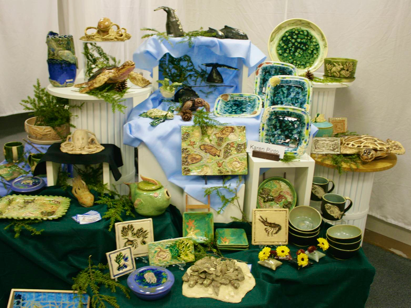 I went to this show because my pottery teacher, Karen Pinto, is in it. Her work is above and the first five photos below. You can find her website by clicking here. You can see several other artist's work below that. I was particularly intrigued by Peggy Thomas' amazing Nature Series (bottom four large photos.) That is not wood you are looking at, but clay carefully carved to look like it! You can find her (as well as all the artists here) on the Connecticut Clay Artist's website by clicking here.
This show runs weekends through December 19, 2010 at 3 Sugar Hollow Road, Danbury, Connecticut, between Marcus Dairy and Pier I Imports near the Danbury Fair Mall. Prices are reasonable; thinking of buying some gifts?