Book Review: The Remains of the Day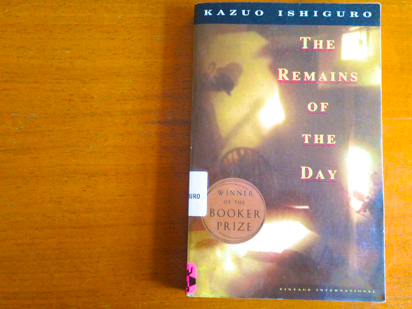 I did not like the movie based on this book when I saw it; I remember it as unsatisfying and rather frustrating, so I would not have chosen to read this. Fortunately, however, my bookclub scheduled it because of a fixation with Mr. Carson, who is the butler in the hit show Downton Abbey. Indeed, this book proceeded (and I now think spawned) the many acclaimed butler characters in literature and on film in the last couple decades.
I am so glad I read this! It is wonderful in all it's subtlety and belated introspection, which is close to impossible to capture adequately on screen. And what is most telling in this book is not what is said, but rather, what is not said. That tension and clarity come across beautifully in this exceptional prose, in a way that is brilliant in its depth and broad applicability. To my surprise, I give this book five stars.
It is a first person narrative of a classic English butler in a important house who is very emotionally repressed and clumsy about recognizing social cues. He is focused on dignity, duty and loyalty– and was impeccable at it– but did he get it right? What is duty? What is loyalty? What is dignity? What is a life well spent?
One does well to examine oneself as this protagonist does in order to make the most of "what remains of the day." One's heart breaks with his and then resolves to go forth to embrace life more fully with a lighter outlook.