Recipe: Mushroom Tilapia Casserole with Eggplant Sauce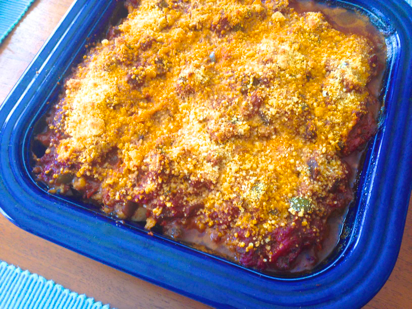 The previous recipe on my blog was a quick one for those short on time. This one however, is slow but worth the tending; the sauce is amazing! The recipe makes twice as much eggplant sauce as much as you need for the casserole, so every other time you make it, it can be come together more swiftly. The flavors here are intense and earthy, and the after-glow is better than the most sought after comfort food. This actually feels as good as it tastes, if that makes any sense. Note: this sauce is great on other things too!
For the Casserole:
4 tilapia loins, poached
1/2 cup grated parmesan cheese
1 pound of fresh mushrooms, washed and sliced
2 Tablespoons butter
1/4 teaspoon dried basil
1/4 teaspoon dried thyme
1/4 teaspoon oregano
1/4 teaspoon paprika
1/4 teaspoon rosemary
4 cloves garlic, pressed
salt and freshly ground black pepper to taste
For the Sauce:
1/2 cup good olive oil
6 garlic cloves, pressed
two baby eggplants (about 1 pound), diced
2 green bell peppers, diced
3 cups tomatoes, peeled and chopped
1/2 cup black olives, chopped
3 Tablespoons capers, chopped (optional)
1 teaspoon dried oregano
1/2 teaspoon dried basil
salt to and freshly ground pepper to taste
12-14 oz (can or jar) tomato paste
2 cups good vegetable broth
Heat oil in a large pot. Press garlic and add to the oil. Chop eggplant without peeling, adding it to the pot and stirring. Chop green peppers, and add, stirring again. Add all the rest of the ingredients, stir, and then cover. Lower the heat and cook for about an hour, stirring occasionally to make sure it doesn't stick.
Poach 4 tilapia loins in water until opaque and beginning to fall apart. Remove from water and set aside.
Preheat over to 350 degrees.
To cook the mushrooms, first melt butter in a large skillet and add the herbs and garlic. Sauté the mushrooms until they are tender, stirring to distribute the herbs. Add salt and pepper to taste.
Butter a medium sized baking dish. Layer the mushrooms evenly on the bottom, using a slotted spoon to leave behind as much liquid as possible. Then evenly layer the tilapia, topped by half of the parmesan cheese. On top of this spoon a layer of sauce equal to half the batch made above. As the top layer, sprinkle the rest of the parmesan cheese. Bake for 15 minutes until heated through. Serve immediately.
Store the other half of the sauce in your refrigerator or freezer for next time.
Enjoy!