Two Cool New Science Books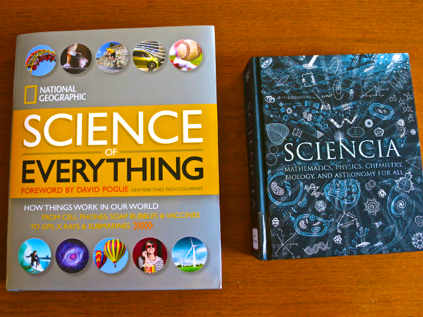 Our teenaged homeschooled daughter is very enthused by these two new books.
Originally seeing both in a great local independent bookstore, she was able to get one through interlibrary loan and begged me to get the other for her, "and not to wait for Christmas either, please." I have a homeschooling budget and have learned to encourage our kid's interests while they are still uppermost in their thought (and before their quick minds have moved on) so I bought the other one for her at a discounted price.
I've had similar books for her older siblings, particularly her brother, but these are more updated, not only in terms of content, but also in terms of style and how the information is communicated. There is more and more to assimilate these days, just to acquire a baseline from which to build, and these books help you get there in an interesting, bite-sized, and visual way.
Check out my photos below of these two books. Maybe you have a curious soul on your Christmas list that needs one or both of these too?