New Poem by me: That Old Picnic Table Feeling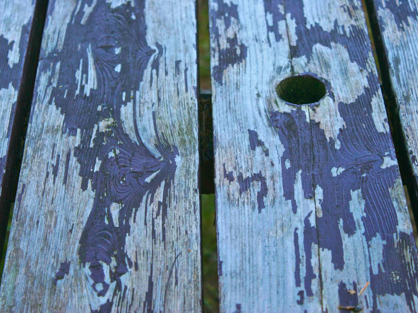 That Old Picnic Table Feeling
The weathered picnic table
is missing as much paint as it retains,
splintering me, where my elbow rests
and snagging my pants on the seat.
Smoother where the paint remains,
the grain of the bare wood is rough,
pockmarked with indentations where screwed together.
A rubbing, like we used to do as kids
on tombstones, creviced bark or bumpy lichen,
done on this table, would be an interesting abstract
with linear gouges between the planks and a hole in the middle.
It feels so different than a new one would;
worn, it has been touched by
happy employment and harsh wind, blistering sun and cold dew,
the scamper of critters and the chatter of excited children.
This table feels and knows these things,
so vicariously, we do too.
It feels and expresses Soul,
the sum total of experience.
A new table symbolizes support and function as well,
but this one's texture epitomizes
not only potential usefulness,
but carries with it the essence
of all those glorious days
already shared.
Polly Castor
9/13/12