Unloading the UBox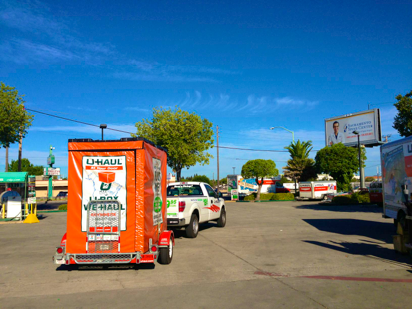 Our oldest daughter and I are back in Sacramento to move her into her apartment today. I woke up this morning thinking about Mary Baker Eddy's first statement in Science and Health with Key to the Scriptures, "To those leaning on the sustaining infinite, today is big with blessings." I was "leaning" today! It was to be 109 degrees out and I was starting out tired from getting in late the previous night (3am our time)…
We rented a cheap local UHaul pickup truck and tailer to deliver the UBox ourselves to avoid the delivery fee. Our first miracle of the day was parallel parking with the thing close to her midtown apartment. We asked a gentleman on the sidewalk if he knew whose car was in the way of our best shot at it, and a gardener overheard and came out of a gate to move it out of our way. So at least we were parked, but further down the street than we wanted to be and in the hot sun. But later, before we were a third unloaded, a car that we'd noticed routinely at the spot in front of the apartment because of its vanity plates, actually left (we didn't expect it to since it had been there every time) and we were then able to pull up aligned perfectly and in the shade!
The other miracle was that when we went to open to UBox we found it was bolted shut. We were not prepared for that, and didn't have an allen wrench. Just then, however, our daughter's new futon was delivered (which I was to sleep on) and he had a wrench that worked on all but one bolt, which was stripped. We were once more stymied, only to be rescued again quickly. As I was praying about it (actively "leaning") he struck on an idea to hammer in an allen wrench that was too large, which worked and we were able then to unscrew that bolt as well and get in.
We ended up moving all the stuff into the apartment in three and a half hours, while it was still only 99 degrees out. (Ice water never tasted so good!) Everything made it fine. We returned the Ubox to UHaul and had them unhitch the trailer so we could take the pickup truck off to IKEA to buy large bookcases, while enjoying cool air-conditioning.