Book Review: Schooled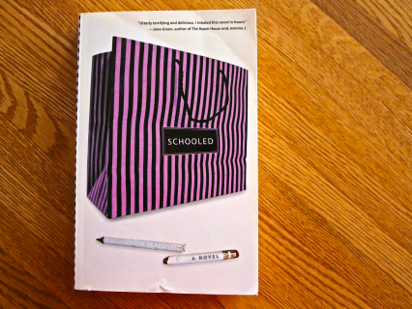 Last night I needed a light Friday evening read after a long week, so picked up this paperback written back in 2008, which I had bought at a library sale. I didn't expect it to be as good as it was; I'm surprised to give it 4 stars.
It was a quite scathing expose– in novel form –of the world of the elite New York City private schools: their teachers, students, parents, and tutors. The main character is a young, idealistic, just-graduated-from-Columbia teacher that is unprepared when facing the corruption she finds in the highest tier of private education. This sobering and all too believable portrayal will be of interest to both educators and parents.
It highlights why some of our most privileged are not better educated and making more of themselves. Buying their way into the Ivy League, it is no wonder that the statistics show that those top coveted schools rarely put out the most successful people. Apparently, many of those cosseted kids are simply not able to do the requisite academics, having built on false foundations based on a culture that prizes money more than learning.
This book made me even more glad we homeschooled and cobbled together an enriched learner-led approach. It may have been spottier than I might have wanted but at least it was 100% genuine: we actually did what we did. Also, this book makes me grateful for the internet's open source curriculums and the "upside-down classroom" approaches now available from Khan Academy, which are beginning to democratize education.
Further, this book rang really true for me as well because of the years I spent working in New York City. Described perfectly were the Park Avenue penthouses and doormen I was so well acquainted with when replacing roofs and climbing over parapets onto scaffolds as a structural engineer on the Upper East Side. She did not exaggerate one bit the opulence and attitudes generally found there.
I would that everyone had the pleasure of experiencing the true joy of both teaching and learning. It is not easy at all, but so worth it. I appreciated the timing of reading this pointed reminder right now as our youngest faces the whole prospect of testing and applying for college; it really doesn't matter where she goes but rather what she learns. After reading this book, playing the "game" right to get in the "right" school feels distasteful, unenlightened and even tawdry. The fact is she'll do well wherever she ends up explicitly because she has actually done her own work and can honestly progress from there.
If you are like me, you'll stay up too late finishing this one. I found no stopping place until the end. But really, why did the author dedicate this book to her dog?