Recipe: Grilled Cheese with Red Raspberry Cabbage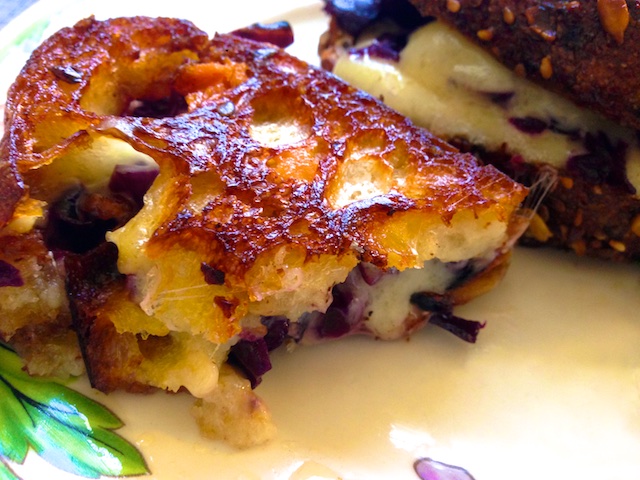 I tried many new food ideas over the holidays, and ironically, one of the favorites was one of the simplest and most quirky. It is also fabulously delicious!
This is your basic grilled cheese filled with red cabbage sautéed in raspberry jam. It made instant converts of the most strident skeptics.
The sauté mixture makes more than a few sandwiches worth, especially if you are like us and use tiny slices of garlic ciabatta or a homemade seeded whole grain loaf. If you use sandwich bread (sourdough would be excellent) you'll have bigger sandwiches and go through the filling more quickly. I just kept a container of the filling in the refrigerator, and we happily worked it down without a problem.
I served these the first time with the carrot salad shown below, but people liked it best partnered with my Easy Roasted Tomato Soup, which is a solid standby from this blog. That is also shown below.
And it goes without saying, the key to a terrific grilled cheese is wonderful ingredients: great bread, incredibly tasty cheese, and the best organic butter. There is a lot of room for creativity just within those elements.
2 tablespoons olive oil
6 cups (12 oz) shredded red or purple cabbage
1 teaspoon kosher salt
1/4  cup raspberry jam
1/4 cup white wine vinegar
cheese you like: we used Trader Joe's Unexpected Cheddar that has parmesan in it; fontina would also be good
bread you like: we used slices of garlic ciabatta or of  a homemade seeded whole grain loaf; sourdough would also be good.
salted organic butter
Heat the oil in a skillet over medium heat and stir in the shredded cabbage and salt. Cook until slightly soft, about 5 minutes. Then stir in the jam and vinegar and cook until the liquid has evaporated and the mixture is completely tender. Remove from heat and set aside.
Butter one side of each piece of bread, and place the butter side down on your work surface. Put a slice of cheese on each piece of bread and heap some of the cabbage/raspberry mixture on half the slices, as shown below.
Put the sandwiches together, and cook on low heat, covered, for about three minutes per side, until the cheese is melted, and the bread is golden and crispy. Flipping them is a bit tricky without losing their innards; I found that pressing them together and using two spatulas to flip them worked best.
Serve these beauties hot– marvel at their sumptuous goodness– and enjoy!