Shrimp Cakes with Dipping Sauce (Recipe)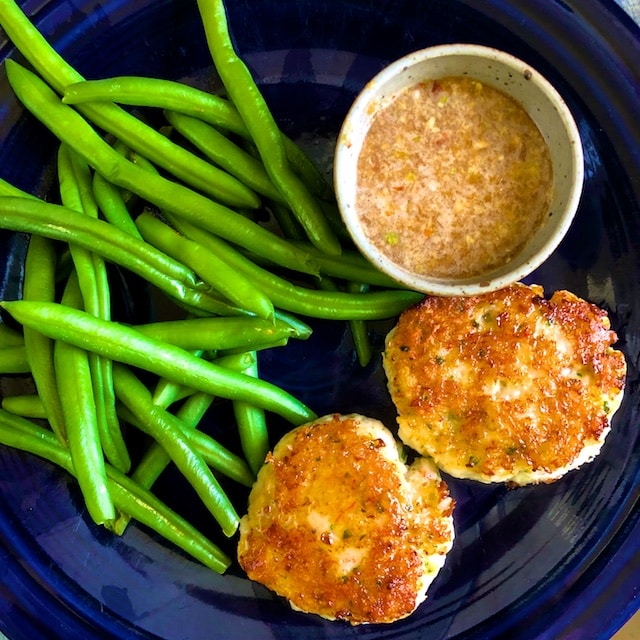 These are a nice change from my Salmon Cakes, which we love, but have often. These shrimp cakes are bland, but the amazing dipping sauce solves that beautifully.
And the shrimp cakes adhere remarkably well together. They want to keep the shape you establish for them, and are not not crumbly at all, especially if you form all of them the day you pulsed them together.
This makes a terrific make-ahead meal that comes together in a flash when you are ready to serve them.  The shrimp patties, formed and put uncooked in the refrigerator, make a quick weekday meal for a busy day; just fry them up and you are good to go!
Shrimp Cakes with Dipping Sauce (Recipe)
For the Shrimp cakes:
1 1/2 pounds raw shrimp
1 (8 oz) can of water chestnuts
1 teaspoon water
1/2 teaspoon cream of tartar
1/4 teaspoon baking soda
1 clove garlic, peeled and smashed
1 Tablespoon fresh cilantro leaves
1 Tablespoon fresh chives
1/2 teaspoon salt
3-4 teaspoons of avocado oil or coconut oil
For the Dipping Sauce:
1 clove garlic
1 scallion
1 inch piece of fresh ginger, peeled
1/4 cup rice vinegar
1/4 cup coconut aminos
1/2 teaspoon toasted sesame oil
1/4 teaspoon crushed red pepper flakes
Peel and de-vain the shrimp. Drain the liquid from the water chestnuts.
Combine the water, the cream of tartar and the baking soda in a small bowl.
In a food processor, combine the peeled shrimp, water chestnuts, baking soda paste, garlic, cilantro, chives, and salt. Pulse until mixture forms a paste. Measure 1/4 cup of paste and shape it in a small patty. Repeat the process until all shrimp cakes are formed. Put them in refrigerator until you are ready to cook them. (It will make approximately 8 cakes.)
Make the dipping sauce by putting all those ingredients into the food processor and whirl until combined.
To cook the patties, warm 2 teaspoons of oil over medium-high heat. Place the desired number of shrimp cakes in pan and cook 2-3 minutes. Then flip them to brown 1-2 minutes on the other side.
Serve immediately with the dipping sauce in a small ramekin.
Enjoy!