Buying Cowboy Boots at Cavenders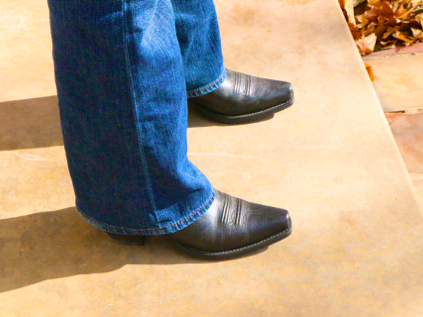 Usually I distain shopping on "Black Friday" and I promote "shopping local," but today was the exception.  Black Friday found me shopping with our two daughters at Cavenders, a huge cowboy boot store in Amarillo.
Some of you may remember Laura buying a pair of boots years ago at Wall Drug in South Dakota; those since have been worn to shreds after being resoled three times.  And Virginia has been wearing my hand-me-down boots that I bought as a young bride on trips to Amarillo in the distant past, and those have seen better days too!  It was time for new boots for both of them.
They tried on countless pairs, settling finally on good choices that were simultaneously very comfortable and reasonably priced.  Laura got a basic black pair and Virginia couldn't decide between a practical brown pair with purple stitching and a jazzy red pair, so she ended up buying both of them when she found out she could ship them home.
I took the photos below to amuse myself as they tried on endless boots, but also to show you the vast array of styles available. There are some wild and pricey boots!  And so many!  And what about the bling on these western belts?!
See Laura's new ones above, and Virginia's are the top two below.