Recipe: Tuna Steak Burgers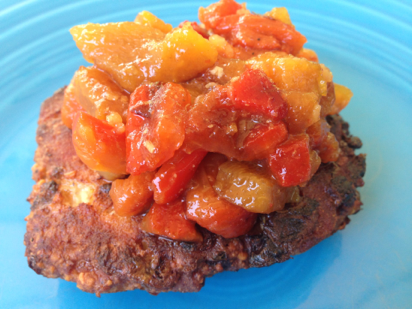 As a vegetarian (who also has come to eat fish) sometimes I need a hit of dense protein. This delivers that, but it is higher on the food chain then we normally do, which is fine once in a while, but I don't recommend it too often. Obviously, you could serve these traditionally on buns, but I serve ours topped with homemade roasted peppers. It would be good as well topped with a spicy mayonnaise.
1 pound of tuna steak, finely diced (I use a package of frozen from Trader Joes, thawed)
1 Tablespoon toasted sesame oil
1 Tablespoon soy sauce
1/4 teaspoon crushed red pepper flakes
1 egg, beaten
1 large shallot, finely diced
1/2 bell pepper, finely diced
1/4 cup roasted tomatoes (optional; I use them if I have them on hand)
salt and pepper
1/2 cup ground raw cashew (I use Trader Joe's Just Cashew Meal shown below)
oil that can go to a high temperature, I use grape-seed oil or avocado oil
Mix tuna with sesame oil, soy sauce, red pepper flakes, bell pepper, shallot, and egg. Mix well and then fold in the cashew meal. Add salt and pepper as desired.
Form into patties; I make six smaller ones as shown uncooked below, or you could make four larger ones. Refrigerate the patties for twenty minutes or longer.
When ready to cook the burgers, heat a skim coat of oil to medium high temperature. Add the burgers and cook for two minutes on each side. Be careful not to over cook them. (but if they are larger, they might need three minutes on each side.)
Enjoy!