Book Review: The Marriage Plot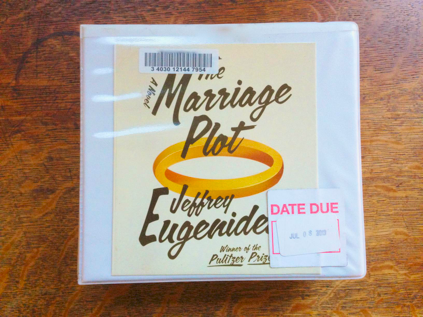 You can see why this author has won the Pulitzer Prize; he writes well.  That said, I still didn't much like this book, and since it was highly acclaimed and gushingly reviewed in 2011, I'm writing this post to tell you to save your time and read something else.
This novel is intelligently written with tons of details which kept me going, and I stayed with this long story hoping things would work out in the end – which they did not – even though the two men both find a way to love the main female character.
The point of the book is that it modernizes the "marriage plot" popularized by Jane Austin and her peers, when women needed marriage for their livelihood. With contemporary feministic independence of women, how has the traditional storyline changed?
I'm not an expert on deconstructionist literature, but I think that women can be happily married even though they are now accepted more widely as sentient beings capable of supporting themselves.  Maybe what this book highlights is that it is men that haven't generally figured out how to accomplish this?
Also, one of the three main characters has manic depression, which none of the reviews nor the book jacket prepared me for.  This novel is much more about the challenges of this disease than about the supposed actual theme. I now know more about drug dosages and the ups and downs of dealing with mental illness than I bargained for.
The other male main character is on a spiritual quest which was somewhat interesting, but he abandons the path abruptly at the end with no explanation, which was disturbing after hundreds of pages of every trivial point discussed. Spoiler: must the author leave all three main characters in an unsatisfied limbo?
The author, a creative writing teacher at Princeton, had this to say in The Paris Review, "I tell my students that when you write, you should pretend you're writing the best letter you ever wrote to the smartest friend you have. That way, you'll never dumb things down. You won't have to explain things that don't need explaining. You'll assume an intimacy and a natural shorthand, which is good because readers are smart and don't wish to be condescended to. I think about the reader. I care about the reader. Not 'audience.' Not 'readership.' Just the reader."
I thought that was pretty good advice from this writer I won't read again because his themes and I do not jive.  I prefer a world view where lessons are learned, redemption is earned, and yes, someone at least lives happily ever after.  I give this work only three stars.