Shrimp and Eggplant Curry Recipe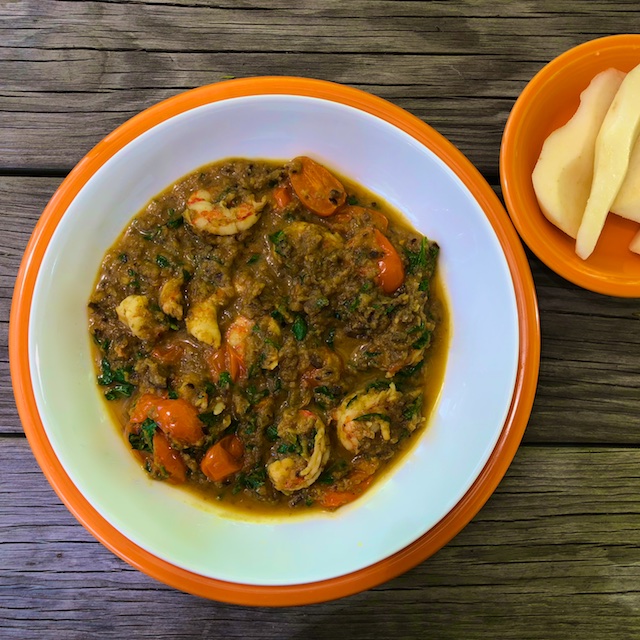 This is delicious and perfect for the rainy days we've been having, even though it doesn't feel very spring-like. I've been wanting to use up the frozen eggplant I had left in the freezer from last summer's harvest, and this was a perfect vehicle for that.
Since I was going to be using the food processor later in the recipe, I used it for several steps to make this come dish together quickly. I chopped the garlic and onion in the food processor, and while that cooked, I reused the food processor to grate the eggplant while it was still frozen, which worked fine (but so would using fresh). Then in the later step I used it again to puree the sauce.
Shrimp and Eggplant Curry Recipe
coconut oil
1 onion, chopped
3 cloves of garlic, minced
a thumb-sized piece of fresh ginger, peeled and grated
1 serrano chili pepper, deseeded and minced
1 teaspoon ground cumin
1 teaspoon ground coriander
1/2 teaspoon garam marsala
1/2 teaspoon turmeric
sea salt and freshly ground black pepper
1 eggplant, grated
1 pint cherry tomatoes, cut in half
1 1/2 cups vegetable stock
1 cup coconut milk
1 pound raw shrimp, peeled and deveined (I used Trader Joe's Argentinian)
large handful of baby spinach, chopped
Heat a tablespoon of coconut oil in a large saute pan on medium, and cook the onion, garlic, ginger, and chili until soft.
Stir in the spices, some freshly ground pepper, and a generous pinch of salt.
Cook for a couple minutes more and then transfer it back to the food processor and blend it until it is smooth.
Return it to the pan with another tablespoon of coconut oil, and let it cook another couple minutes.
Then add the grated eggplant and stir well to incorporate.
Add the cherry tomatoes and stock. Bring to a boil, then lower the heat to a simmer for 10 minutes.
Add the coconut milk, the shrimp, and the spinach and cook about 4 minutes until the shrimp are tight-fisted, showing they are done, and the spinach is wilted.
Serve immediately.
It makes three servings as sized above. Enjoy!