Photos from Elaine's Cabin in Texas (with Sunrises)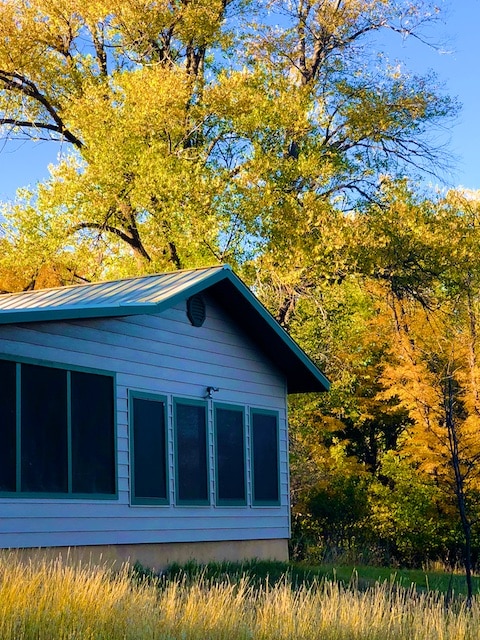 Last weekend we returned to Texas for yet another family wedding on my husband's side. (This makes four Texas weddings we've been to in three years: see here, here, and here.)
Since this time our daughter brought her boyfriend as a plus one, we were too many to fit in my husband's brother's house, with his two kids home, as well as my sister-in-law and brother-in-law in from Virginia. So I had the brilliant idea of asking my husband's cousin Elaine if we could borrow her cottage (just out of town) and it was a perfect solution.
We loved it, as you can see in these many photos! Little did we know that we'd have a front row seat for each sunrise! The ever-changing light was magnificent.
I wish I had gotten a photo of Elaine and Dale here, but below you can see our niece (from Louisiana), with my daughter and her boyfriend. (Note: both Elaine and our niece from Louisiana are fellow blog readers of yours.) Then you can see reflections in our rental car's roof; I spent some time there because it was the only place I got cell service.
Below that you can see me rejoicing in the yellow cottonwoods, the creek (as they call it), and yes, oh yes, the sunrises. And no photoshop or filters were used here, but I did have my good camera on hand for most of these. The light and sky display was really this awesome.
We really enjoyed this spot and were very grateful to have been able to use it! Thank you to Elaine and Dale for your gracious hospitality!