Book Review: 1000 Artist Journal Pages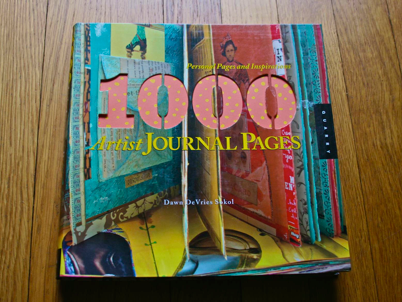 I have really enjoyed this book by Dawn De Vries Sokol and even give it five stars. I bought it in the fall and have savored it slowly and incrementally at bedtime, studying each page thoroughly and carefully before going on to the next. I disciplined myself not to flip forward, and didn't allow myself to turn the page until I got what that previous journal piece had to say. This way, each page was new and exciting with unexplored depths to delve. It was a study of the soul's wisdom and the exploration of spiritual sense as much as a study in human nature or art. We are all so unique but with so much in common!
Below are some photographs of some random pages to give you the flavor of the book. It is wonderful! The 1000 journal pages are offered without comment. The artists do plenty of commenting themselves and sometimes you need a magnifying glass for it if you are intent on getting it all. What I have gotten most out of this book is not new ideas or techniques to try, but a clear unshakeable sense that there are as many ways to do art journaling "right" as there are people, and that this is precisely the beauty of it. I hope this is what one feels as well when they look at my art journals – empowered to be who they are and to want to go for expressing it in their own way. Art journaling is so healthy, supportive and revealing, I would wish everyone to give it a try. This book is here to inspire newcomers or veterans alike.