Cider Glazed Sweet Potatoes with Cranberries (Recipe)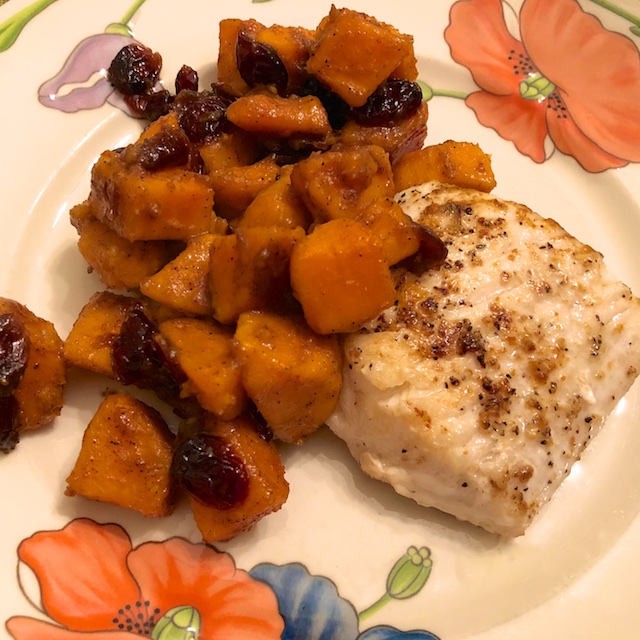 This tastes like fall or Thanksgiving, but is a wonderful winter side dish even for February. We are really enjoying it! Be sure to get unsweetened dried cranberries, though, or it might be too sweet.
Recipe for Cider Glazed Sweet Potatoes with Cranberries
2 large (orange flesh) sweet potatoes (1.5 lbs total), peeled and cut in 1 inch chunks
1.5 cup apple cider
1 tablespoon olive oil
1/2 teaspoon ground nutmeg
1/2 teaspoon ground allspice
1/2 cup unsweetened dried cranberries
Freshly ground black pepper
sea salt
In a large pot of salted, already boiling water, cook the sweet potatoes for about 5 minutes. Drain.
In a large pan over medium-high heat, combine the cider, oil, nutmeg and allspice. Bring to a boil, stirring well.
Add the sweet potatoes, and reduce the heat to a simmer.
Cook 3 to 5 minutes until the sweet potatoes are tender, stirring occasionally. Transfer the sweet potatoes with a slotted spoon to a bowl and season with salt and pepper.
Add the cranberries to the pan and bring it to a boil again. Reduce heat and simmer for about 10 minutes until the cranberries have cooked through and the liquid is reduced to a syrupy glaze. Return the sweet potatoes to the pan, and stir until heated through and evenly coated.
Season to taste and serve hot.
Yum! Enjoy!