Recipe: Mexican Stuffed Peppers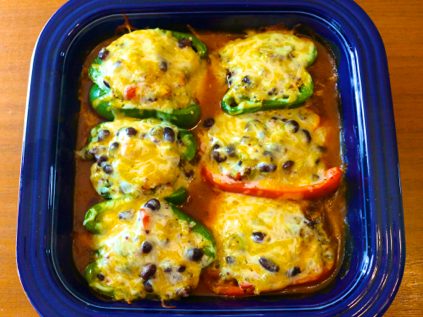 These are delicious: spicy but not too spicy. The homemade red enchilada sauce makes them all the better. I made the ones shown here with our last peppers of the season from the garden.  
Red Enchilada Sauce:
2 Tablespoons Olive Oil
2 Tablespoons flour
2 teaspoons chili powder
1 canned chipotle chili (packed in adobo) minced (freeze the rest of them)
1/2 teaspoon of cumin
1/2 teaspoon garlic powder
1/4 teaspoon onion powder
1 teaspoon sea salt
8 oz tomato sauce (I use Trader Joe's' Three Cheese)
2 cups water
 
Heat oil in a large saucepan over medium heat. Add flour and chili powder, and cook for 2-3 minutes, stirring continuously. Then add the rest of the ingredients, whisking to combine. Bring to a boil and then turn down to a simmer for 10 minutes.
 
You will use half of this in the recipe below; I freeze the other half for next time.  
Mexican Stuffed Peppers Recipe:
2 large or (3 smaller) bell peppers, sliced in half from stem to tip, seeds removed
1/2 cup quinoa, uncooked
1/2 cup onion, diced
1/2 can black beans, rinsed
1 Roma tomato, seeded and diced
1 (4 oz) can diced green chiles (don't drain)
1/4 cup cilantro, minced
1/4 teaspoon sea salt
1/4 teaspoon freshly ground black pepper
1/2 cup (or more?) grated Mexican Blend Cheese (I use Trader Joe's)
1/2 recipe homemade red enchilada sauce (above)
 
Preheat the oven to 375˚F.
 
Cook quinoa and onion in one cup of water, with a pinch of salt, over medium high heat. Bring to a boil. Boil for 5 minutes, then cover and turn off heat. Let it steam for 15 minutes.
 
Stir into the quinoa/onion mixture the black beans, tomato, green chiles and their juices, the cilantro, the 1/4 teaspoon sea salt, and the 1/4 teaspoon ground black pepper. Mix well. Stuff this into your bell pepper halves.
 
Pour the enchilada sauce into the bottom of a 9×9 baking dish. Arrange the bell peppers on the sauce, and top with the cheese. Cover the pan with foil and bake for 30 minutes. Remove foil and cook for five minutes longer.
 
We serve this dish with avocado slices and a bit of sour cream.
 
Enjoy!