TV Series: The Paradise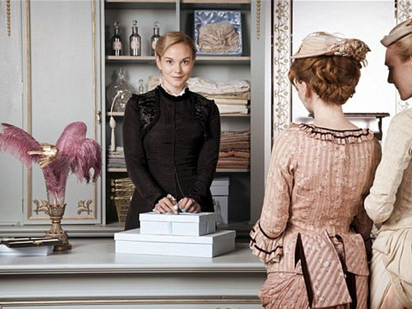 We really enjoyed this two-season TV series, The Paradise, a BBC costume drama put out on PBS's Masterpiece Theater.
The Paradise is a sumptuous early department store, before the concept was completely forged. Moray, a draper's son, built it up from nothing, but is financially dependent on Lord Glendenning, whose daughter has set her sights on him.
Enter Denise, a country girl, whose uncle is a struggling shopkeeper across the street from the Paradise. She get a job at the Paradise, and is so beautiful and perky with great ideas, she quickly gets noticed by Moray. The other staff has mixed feelings about her strong-mindedness, and her career ambitions are unusual for a girl at the time. I found her a completely refreshing character.
There is a love triangle and power struggles all around, but Denise, with constancy, forthrightness, a sense of self-worth, fairness and ongoing ingenuity, wins everyone over for the best in the end.
This show was based on Emile Zola's novel The Ladies Paradise, and it makes me want to read the book.
At least for now, you can watch this show online here on the Masterpiece website; see the season 1 and season 2 drop-down menus just under The Paradise title.