Photos from Airplanes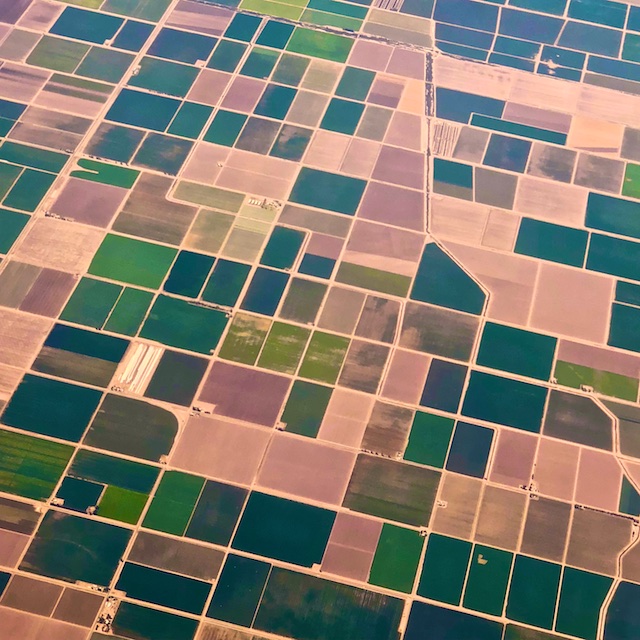 I am finally back from a ten day vacation. Because my photo storage system is not very portable, I haven't been blogging in real time these last ten days, which is different than what I usually do.
So in the next couple weeks you'll be catching up with the photos from my trip as I get them edited. (I only took 1200 on my iPhone alone, not including my "good" camera…) All these photos out the airplane windows were taken with my (unfiltered) iPhone.
In the last ten days I did a three legged trip, each leg with one connection, so these photos represent six plane flights, all of which I sat next to the window, which is by far my favorite spot on an airplane.
My husband and I flew from Connecticut to Sacramento, California for a long Father's Day weekend with our oldest daughter. After five delightful days with her, he flew to Boise, Idaho and I flew to Tucson, Arizona for the other five days. We then flew back to Connecticut from these two separate locations, to arrive, as planned, within a couple minutes of each other– even amazingly collecting our bags from the same carousel before driving home together. We both had good times with our daughter and friends, and the travel was seamless.
I love looking out the window, for as you know by now I love abstract shapes, composition, and unique perspectives. What grand variety there is out the window in this single country! Everything from dense population to vast empty expanses, I find it all fascinating.
There are lots of photos here, but check them out, and ponder this land and our stewardship of it. Ponder the Creator of it and the glory of it all. What is our impact and what is being cultivated within it? Ponder too your place in it and all the different lives that are being lived out there on this grand planet of ours. Traveling is such an expansive process!
Welcome home to us!