My Newspaper Article: See Beyond the Masks on Halloween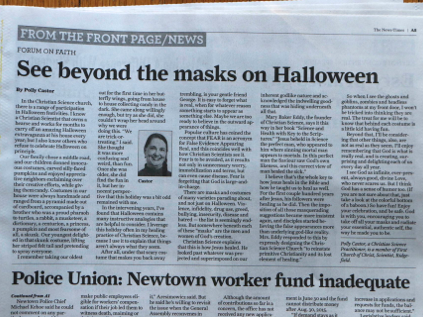 I am a regular contributor to the Danbury News Times Forum on Faith column, which is also picked up by the Connecticut Post and the Stamford Advocate.  You can read the article online here and here and here or read it below:
See Beyond the Masks on Halloween
In the Christian Science church, there is a range of participation in Halloween festivities.  I know a Christian Scientist that owns a hearse and works for months to carry off an amazing Halloween extravaganza at his house every year; but I also know others who refuse to celebrate Halloween on principle.  
Our family chose a middle road, and our children donned innocuous costumes, carved silly-faced pumpkins, and enjoyed appreciative neighbors exclaiming over their creative efforts, while giving them candy. Costumes in our house were always handmade, and ranged from a pyramid made out of cardboard, accompanied by a brother who was a proud pharaoh, to turtles, a rabbit, a musketeer, a dictionary, a centurion, a princess, a pumpkin, and most fearsome of all, a skunk. Our youngest delighted in that skunk costume, lifting her stripped felt tail, and pretending to spray everyone.
I remember taking our oldest out for the first time in her butterfly wings, going from house to house collecting candy in the dark. She came along willingly enough, but try as she did, she couldn't wrap her head around why we were doing this.  "We are trick or treating," I said.  She thought it was more confusing and weird, than fun.  Once she was older, she did find the fun in it, but her innocent perspective that this holiday was a bit odd remained with me.
In the intervening years, I've found that Halloween contains many instructive analogies that are helpful to consider. I leverage this holiday often in my healing practice of Christian Science, because I use it to explain that things aren't always what they seem to be.  
After all, under that scary costume that makes you back away trembling, is your gentle friend George.  It is easy to forget what is real, when for whatever reason something starts to appear as something else.  Maybe we are too ready to believe in the outward appearance of things.
Popular culture has coined the concept that FEAR is an acronym for False Evidence Appearing Real, and this coincides well with how Christian Scientists see it. Fear is to be avoided, as it results not only in unnecessary worry, immobilization, and terror, but can even cause disease. Fear is forgetting that God is large and in charge. 
There are masks and costumes of many varieties parading about, and not just on Halloween. Violence, infidelity, drug use, greed, bullying, insecurity, disease, and hatred– the list is seemingly endless. But somewhere beneath each of these "masks" are the men and women of God's creating.  
Christian Science explains that this is how Jesus healed.  He looked past whatever was projected and superimposed on our inherent Godlike nature, and acknowledged the indwelling goodness that was hiding underneath all that.
Mary Baker Eddy, the founder of Christian Science, says it this way in her book Science and Health with Key to the Scriptures, "Jesus beheld in Science the perfect man, who appeared to him where sinning mortal man appears to mortals. In this perfect man the Saviour saw God's own likeness, and this correct view of man healed the sick."
I believe that's the whole key to how Jesus heals in the Bible and how he taught us to heal as well. For the first couple hundred years after Jesus, his followers where healing like he did. Then the imposition of all those masquerading suggestions became more insistent again, and disciples started believing the false appearances more than underlying God-like reality. Mrs. Eddy responded to this by expressly designing the Christian Science church "to reinstate primitive Christianity and it's lost element of healing."
So when I see the ghosts and goblins, zombies and headless phantoms at my front door, I won't be tricked into thinking they are real. The treat for me will be to know that behind each costume is a little kid having fun.  
Beyond that, I'll be considering that other things, also, are not as real as they seem.  I'll enjoy remembering that God is what is really real, and is creating, surprising, and delighting each of us every day all year. 
I see God as infinite, ever-present, always good, divine Love, who never scares us. But I think God has a sense of humor too. (If you are not sure about that, just take a look at the colorful bottom of a baboon.)  So have fun!  Enjoy your celebration, and be safe. God is with you, encouraging you to take off all your masks, and radiate your essential, authentic self, the way He made you to be.
By Polly Castor, a Christian Science Practitioner, and a member of First Church of Christ, Scientist, Ridgefield.