Recipe: Broccoli with Parmesan and Pine Nuts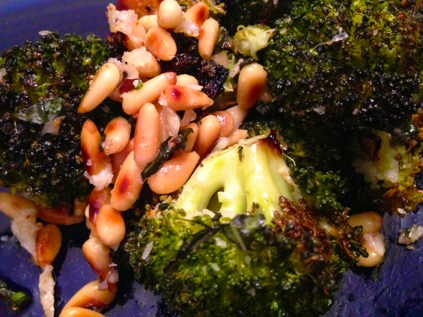 Unlike my husband who likes broccoli raw or just steamed, I'm not a broccoli fan, but have finally found a way I truly enjoy it. Not surprising, I like it better roasted –I like roasted vegetables in general– and then adding these few yummy accents helps this vegetable be actually delicious. Give it a try, and I think you'll agree with me. Below you can see it as I served it with Thyme and Garlic Roasted Shrimp which also cooks in a hot oven and has garlic in it as well.
Roasted Broccoli with Parmesan
4 to 5 pounds of broccoli (or about eight cups of florets)
4 garlic cloves
olive oil
1-2 teaspoons of coarse salt
1/2 teaspoon freshly ground black pepper
2 teaspoons grated lemon zest
2 tablespoons freshly squeezed lemon juice
1/4 cup pine nuts
1/3 cup freshly grated Parmesan cheese
Preheat the oven to 325˚F.
Toast the pine nuts over medium heat in a dry skillet, shaking frequently, until starting to turn golden.
Cut the broccoli tops from the stalks. (Either discard the stalks or use them in some slaw.) Pull the florets apart into smaller pieces. Place the broccoli florets in a Pyrex or roasting pan large enough for them to be in a single layer. Add the garlic and toss with 5 tablespoons of olive oil. Add the salt and pepper. Roast for 20 to 25 minutes until the tips of some of the florets are browned.
Remove the broccoli from the oven and immediately toss with 1 1/2 tablespoons of olive oil, the lemon zest, lemon juice, pine nuts, and Parmesan. Serve hot.
Enjoy!