Mirror Lake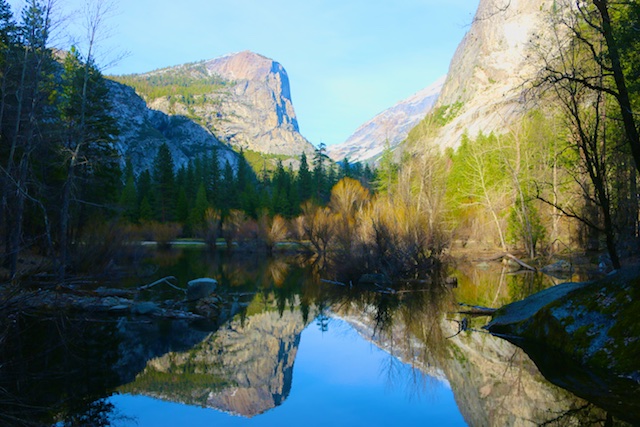 One of the first places we visited when we got to Yosemite was Mirror Lake. When I was in Yosemite last summer with our younger daughter, there was no water in Mirror Lake, so I was eager to see it in the spring filled with recent snow melt. It was as gorgeous as I had hoped.
Mirror Lake is situated at the base of Half Dome, which runs up off the right side of the photo above, immense and towering overhead. From there, looking up at it, you really get a sense of how massive it is. It was impossible to photograph all of Half Dome with its reflection without a wide angle lens, which I do not own, so I share this glorious place below piecemeal. It was also a challenging place to photograph because the light on the mountains is so bright and the shadow of them so dark, it is hard to get both of them lit properly within the same aperture.
It makes one appreciate what a miracle the human eye is that it can take in all this incredible beauty simultaneously. Also the metaphors of reflection–with all its profound implications– run rampant for me in a scene like this, as the poet and spiritual seer in me take wings.
We lingered quite a while, waiting for the light to change at sunset. Without clouds for a sunset to cast pinkish color on Half Dome like I saw last summer, the light changed merely to burnish the amazing rock a deep yellow, which you can see at the end of this post. I loved it all; it was so wonderful and I am very grateful I got to be there.