Today I Heard the Dalai Lama Live!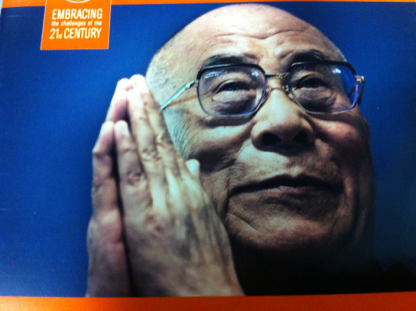 Today my husband and I had the privilege of hearing the Dalai Lama live at our nearby college. Last spring, a lottery was held to see who would be honored with the opportunity for tickets and I was fortunate to have my name drawn. Each name drawn was allowed two tickets so I invited my husband, and ever since, this day has been starred on my calendar.
Today arrived as a rainy one, but this did not dampen the enthusiasm of anyone coming to the event. Security was strict, and cameras and umbrellas were among the items not allowed inside. The pictures here were taken with my cell phone.
We first visited the mandala shown below which took 200 "monk hours" to complete. After the event, it will be swept up and each monk will take part of the sand and release it in the water as is traditionally done.
Richard Gere, with grace and poise, introduced the Dalai Lama. I had known he was interested in Buddhism since listening to this book by the Dalai Lama that was narrated by him. And other than liking Richard Gere as an actor, he holds a distinction for me as one of the few celebrities whose apartments in NYC I renovated back in my engineering days. You can see him to the side in one of the photos below looking beautiful in silvery white hair.
The Dalai Lama was then introduced, given an honorary degree, and a college visor, which he jauntily put on (see below) which made it a little hard to take him so seriously as "His Holiness." I had known from the above referenced book that learning English had been very hard for him, but I did not expect it would be so hard to understand his diction. Fortunately all those years of immigrant laborers on construction sites in NYC equipped me well for listening through the accents of those who are not good at speaking English. Additionally, there was a marvelous interpreter who was both wonderful in demeanor and incisive in his clarifications.
The title of the Dalai Lama's speech was "Advice for Daily Life," and it's content was very basic. It applied to those of all faiths, and did not emphasize Buddhism in any way. He was mostly concerned with whether one was earnestly putting whatever faith they had into practice.
I took notes during his somewhat disjointed talk. Here are some of his comments with his emphasis in capital letters:
• "Materiality and education fail to bring inner peace. Our existing method often does not bring happiness."
• "However, moral education and education of values is important."
• "Inner peace = calmness of mind."
• "There is too much self-centeredness in this world. Attitudes of insecurity, fear and distrust are too prevalent. We must develop a sense of concern for others. We should not harm others, but concentrate on serving them. We need to implement this in daily life, which will bring inner strength and overcome fear."
• "Forgiveness is not letting the negative feeling regarding the wrong doer overtake you. You need to become concerned with their well-being."
• "Compassion is a genuine concern for others. It will give you peace of mind. Tolerance and forgiveness are a sign of strength; anger is a sign of weakness. INNER PEACE IS ENTIRELY DEPENDENT ON WARM-HEARTEDNESS. Forgiveness, tolerance and compassion are not a burden. IT IS FOR YOUR OWN INTEREST!"
• "Every morning think of these values. Make a pledge to yourselves for this motivation. Then at bedtime, reflect: how did you do? Congratulate or correct yourself. Do this daily over weeks and months. You'll see improvements in your life. Discipline protects your own interests. Any believer, take one verse and repeat it to yourself ten times and then resolve to follow that guidance throughout your day."
• "We are not seeking money or sex. Don't pray to God for your corruption to be successful!"
• "The real meaning of Jehad is to combat the negative emotion."
• "Seriously, faithfully, follow your moral teaching. Be committed to your spiritual practice to the degree that you are oblivious of what others think of you."
• "Learn through hearing, then through contemplation, then through discipline."
• "Any conviction must come from your own investigation and analysis, not what anyone else says. FAITH AND REASON should go together. Think more by yourself. Find firm conviction, and then work hard."
• "Less is more with emotions. Look for mutual win/win.
• "Analyze your goal and then be firm. You need to FOCUS. We have a saying, 'a needle with two eyes cannot stitch well.' Likewise, if you bring two minds to anything, you will not do it well.You can practice being single-minded through training. Start practicing. Teach yourself to concentrate for 1 minute, and then try to do it for two minutes, etc."
• "You can also cultivate an ability to be at ease with events. This is different than apathy."
• "After death, the soul still remains – but not in the coffin. God is infinite Life, so you cannot get away from meaning."
• "It is very important to keep peace of mind."
After his talk he took questions from the audience. He sometimes flatly, and unabashedly said, "I don't know." He laughed heartily, and swung the spectrum from meek to gregarious. He seemed surprised when told the time was up; he was just getting warmed up. Then, he gave $50,000 to the college to launch an Advanced Institute of Compassion and Creativity. At the end, he carefully paused to screw the top onto his water bottle before leaving the stage.