Our Booth Today at a Local Health Expo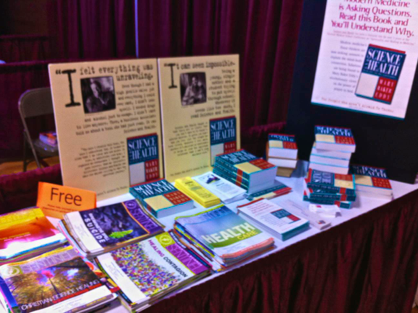 Today I manned a booth at our local health expo, sharing the connection between spirituality and healing with an interested public.  We sold copies of the bestselling book Science and Health with Key to the Scriptures by Mary Baker Eddy (in both Spanish and English), and gave away many free back issues of the Christian Science Sentinel.
A lady in charge of the Teen Center took many copies of the Sentinel on pertinent topics for the kids to read there… We talked with a chiropractor who had a doctor tell him that the future of medicine was going to be teaching how thought governs the body…  Interestingly, there was a rush on any and all of the Sentinels dealing with anger… I had many meaningful discussions with a wide variety of people, some of whom I already knew locally, but hadn't had a venue before to discuss with them what it is that I do.
One lady asked if I was Mary Baker Eddy.  I explained that no, she wrote this book over 125 years ago.  They were impressed that she was so ahead of her time to have discerned already what we are just starting to understand now. I agreed that she was truly remarkable! 
In the bottom photo below you can see our resident angel: David, the son of a friend that helped me with the booth, delighted everyone all day long!