Book Review: Joy for Beginners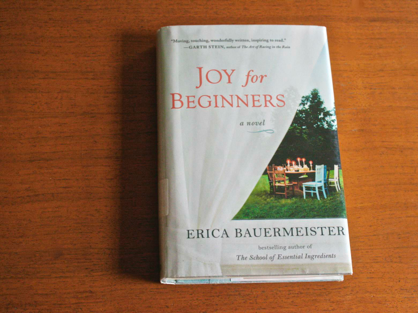 A few years ago I reviewed this author's School of Essential Ingredients on this blog, so when I saw she had a new paperback out, I hustled to check out the hardcover from my library. I liked this book too, and am giving it a companionable four stars. It is a very swift, pleasant read, and sometimes that's just what you are looking for.
This book is about venturing out and making progress from wherever you find yourself. These characters are empty nesters, recent breast cancer survivors, young mothers, divorcees, widows, or defiantly single; thorny or soft, strong or fragile there is a full range here, bound in a loose community of friendship. Each vows to do something they want to do but are afraid of, and not surprisingly, the effects are expansive. With love, fear is faced and everyone is better for it.
Some quotes from the book:
• "The women ranged in age, but they were all old enough to know that in the currency of friendship, empathy is more valuable than accuracy."
• "What is the motto? … Adults need to have fun so children will want to grow up."
• "You can be broken, or broken open. That choice is yours."
This author did her research and she understood what she wrote about. Her writing about bread-baking made me need to go bake a loaf; her detailed writing about working in the pottery studio resonated in consonance with my own experience in a similar space. She wrote well about rafting the Grand Canyon, or doing a sixty mile walk for cancer awareness, because she had done these these things. She caught a character's intense sense of smell in the details of cinnamon, sage and blackberries. And she accentuated my longing to travel, by describing my own feelings so well.
When you need a soothing, undemanding read that makes you want to grab life and live more fully, try this one.