Andrew Carnegie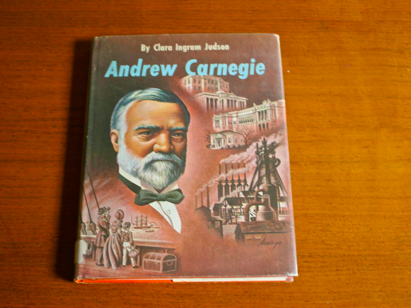 My daughter is studying the life of Andrew Carnegie right now. This amazingly successful "man of steel" immigrated from Scotland at 13 and started working as a bobbin boy for 12 hours a day six days a week making $1.20 a week. Ten years later was making $400 a month working 9 to 5 as an assistant for the president of the railroad. He worked hard, without complaint, always noticing opportunities instead of limitations. He took initiative and focused on what he was doing.
He believed in the equality of man and always worked toward arbitration and peace. He believed in no separation between owners, management and workers. As he made more he felt responsible in helping everyone else make more; he felt the more fortunate must care for those that were less fortunate.
He was personable and well liked and a genius at hand picking people. For example, he made Charles Schwab a multimillionaire having spotted him as a grocery boy. "A Carnegie man had to be a hard competitor, but a likable, smooth-dealing person. He must be thick skinned enough to take Carnegie's prodding, determined enough to keep those working under him at top speed, and diplomatic in outside affairs," says author Clara Ingram Judson.
Carnegie's strict rules were:
Never live extravagantly

Pay debts, before due if possible

Have money on hand, it may be needed

In time of depression, build and expand

Be ready for the future.
He didn't marry until he was 52, waiting until after his mother died. His mother was a woman of fortitude and industrious common sense, whom he adored. She followed his every move until her death, when he married a 29 year old friend of the family. They had a happy union, complete with one daughter, Margaret.
At the age of 66 he sold his steel business for $492,000,000, which was a lot of money in 1901. He devoted the rest of his life to giving his money away, which had never been done up until that time. He asserted that anyone who died wealthy had failed in life.
Like his hero Ben Franklin, he was passionate about libraries and learning. So he built 3,111 libraries! (Photos below are of the Carnegie library we visited recently in Farmington, Maine.) In 1910, Carnegie set up a fund of 10 million dollars to promote international peace. When he died on August 11, 1919, in his 84th year, he had given away all but 22 million dollars of his fortune.
And what was said at his funeral? "Andrew Carnegie belonged to that great race of nation builders who have made the development of America the wonder of the world. He could inspire others to unusual efforts more than any other man."
Methinks there is something for us all to learn from this man?
(Side note: Clara Ingram Judson is an author who wrote especially good biographies in the 50's. At at one time she had 80 books in print. I recommend them for good information for upper elementary or middle school kids. You can find them in libraries or online used books sites like here and here.)