Movie Review: The Man Who Knew Infinity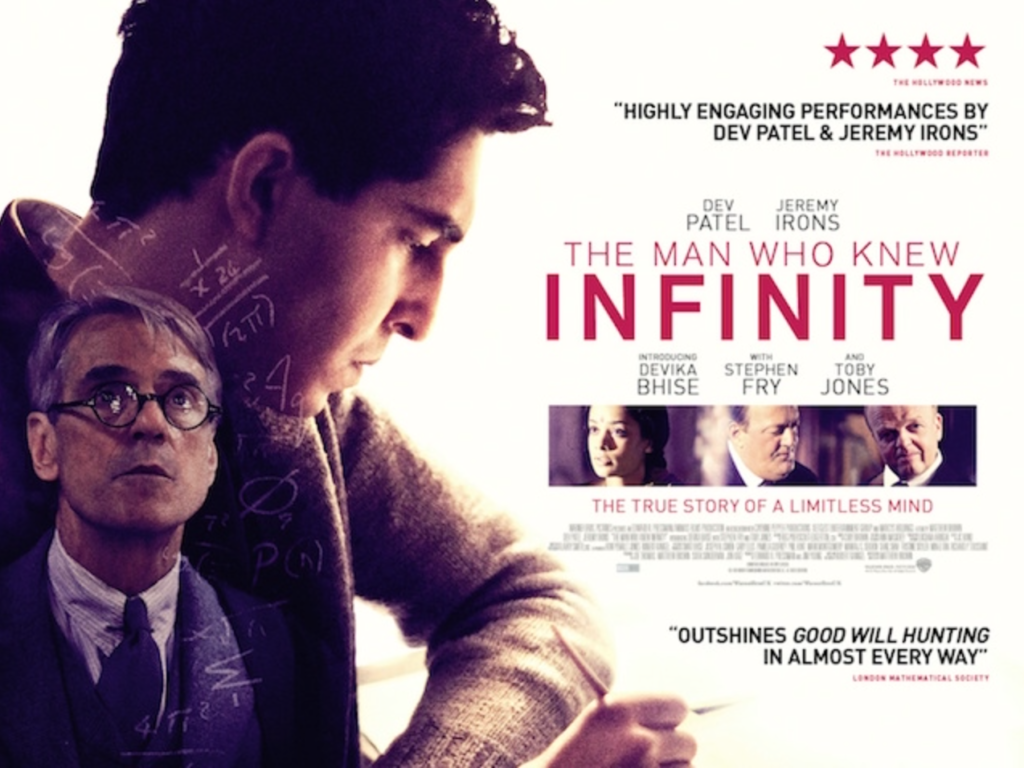 This movie is perfect for people who are either nerds or those who know what it is to feel led by God in their work. Since I qualify in both categories, I give this film five stars, although that is higher than it is ranked on the poster.
Who doesn't love an uneducated genius from Eastern India in 1913, who is able to solve the "impossible" mathematical problems that have stumped the best that Cambridge has to offer? This is based on a true story, about mathematician Srinivasa Ramanujan, who travels to England to get his amazing mathematical formulas published.
These formulas "come to him" spontaneously through his overt devoutness and earnest prayer, but in Cambridge, he has to learn to prove them, even though their truth is self evident (to him) and he'd rather be doing original thinking. It is difficult for him in a foreign culture, trying ineffectively to eat a vegetarian diet and deal with the chill of England, and unfortunately he doesn't let his mentor know of his troubles. He is also a long way away from his beautiful wife as well as his meddling mother.
Just like Mozart or Beethoven, whose music was revealed to them fully formed, this man had scope and abilities beyond what the world was ready for. He left quite a legacy and now we are now utilizing his work to understand black holes.
I also come away with the clarity that there is only one God behind the principles of mathematics, and the partitions of Hindu versus Christian cultural views of God melt into the all-ness and prominence of infinity. God reveals His beauty and profundity to everyone who opens their heart to it, regardless of background.
I thought this was a wonderful movie, similar to Goodwill Hunting, but better. You might want to see it!