Roasted Cauliflower with Balsamic Raisins (Recipe)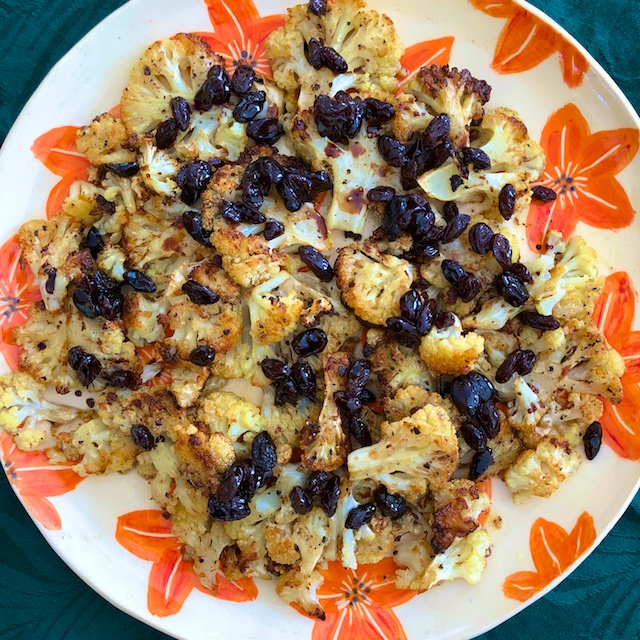 This is wonderful; the sweetness of the raisins counteracts the vinegar beautifully. The cauliflower is especially yummy when you get it nice and browned.
Recipe for Roasted Cauliflower with Balsamic Raisins
1 head of cauliflower
1/3 cup good olive oil
salt and pepper
1/2 cup balsamic vinegar
1/2 cup organic raisins
Preheat the oven to 400ºF.
Cut the cauliflower from top to bottom in 3/4 inch slices, to increase the amount of surface area they can brown. Brush the cut sides with olive oil and season with salt and pepper. Put on a baking sheet and roast,uncovered, for 30 minutes, turning once. They should be nice and browned. (If they are not yet, leave them in a little longer.)
Meanwhile put the balsamic vinegar and raisins in a small sauce pan over medium heat and bring to a boil. Lower the heat until it barely bubbles and cook, stirring occasionally, until the raisins are puffed up and vinegar is thickened like syrup.
Put the cauliflower on a serving platter and drizzle the balsamic raisins over it.
Enjoy immediately.
Yum!