Grace Notes #24 (with Photos)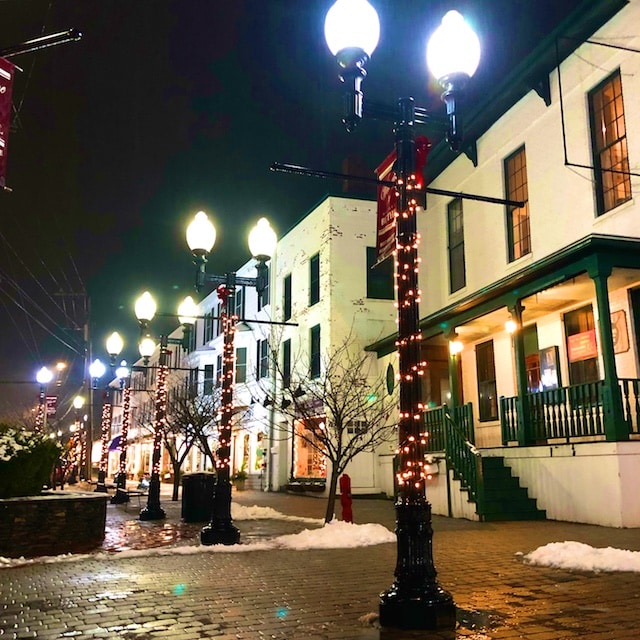 This is a periodic blog feature I call "grace notes." It occasionally captures my jottings of incidental gratitude. My hope is that this practice will make me (and you?) more aware of the constant flow of amazing good we are perpetually steeped in, which we are surrounded by all the time. It is here only asking to be noticed and amplified.
So now I am furthering my ongoing goal of appreciating such a continuous, overflowing abundance of random good. I've even taken photographs of some of them –mostly with my iPhone– which you can see in this post.
So let's start this gratitude list with:
The sweet town I live in (photo above is a block from my house, near the independent bookstore that I'm grateful hosts two book groups I attend.) Other than online, this is town is where were are creating community, and it is charming.
I'm grateful for recent art sales. Recently, we've installed my Crown of Petals monoprint collage in the home of one of your fellow blog readers; it is now hanging in her family room as you look into her kitchen (see first photo below). Also, another fellow blog reader was visiting the states from Germany for the holidays, and came by to accept my luncheon invitation. She left having bought a plate (see second photo below). For all of the rest of you collectors of my work out there, or those carrying around my art on your phone cases, etc, I thank you too. I am so happy my artwork brings you joy.
I'm grateful for the opportunity for my new one woman show which opens a week from now. I'm grateful for all the energy, inspiration, devotion, and dedication I have to put into getting ready for this! I'm also incredibly grateful to my husband who will be doing all the framing this next week. His cheerful, unequivocal support is very appreciated.
I'm grateful for the blessing of our thirty year marriage. Thank you to all you well wishers on the occasion of our recent anniversary. We are both so grateful you are in our lives.
I'm grateful for having both of our daughters home for a good slice of the holiday, and that we had a nice time together. I'm very grateful they are doing so well, and are both diving into their rigorous professional work with poise, competency, intelligence, and aplomb. God is guarding, guiding, and governing them to be sure, and I'm very thankful to know it. I'm grateful too, that our younger daughter got in some time working on her quilt while she was home (see photo).
I'm grateful our seasonal winter weather has been pretty but not debilitating.
I'm grateful for all the world's prayers for Australia, as well as those keeping us out of war.
I'm grateful for all the food I've had recently that was not prepared by me (see photos below).
I'm grateful for pottery made by others as well (see two examples below).
I'm grateful my husband is thriving with his new podcast about the Bible, and getting into a rhythm doing it.
I'm grateful for the Christian Science periodicals. I'm reading one article a day, and wow, this is a gold mine. (see here).
I'm grateful for my 20 for 2020, which are keeping my goals in focus. So far so good!
I'm also grateful for the clean slate of a new Reading Challenge for 2020.
I'm grateful for all my practice clients and for the privilege in helping them at their most vulnerable. I'm grateful for their progress, and the sense of confirmation and satisfaction we share when healing occurs.
I'm grateful for Connecticut outlawing plastic bags. What a delight it is for me to see people bringing their own bags to the stores.
I'm grateful for Greta Thunberg, and for the spotlight she's put on global warming for the world. I'm grateful I do not feel hopeless about solutions being found, and am glad for the consciousness that is being raised toward that end.
I'm grateful for every honest, altruistic, integrity filled, hardworking politician and government worker.
I'm grateful to those that work in the morgue. I wouldn't want to do it, but thank God someone does do it! We give a lot of lip service to first responders, but do we remember enough these hidden workers that quietly deal with the worst, sight unseen?
I'm grateful for the water cycle. How ingenious is that!
I'm grateful for colorful lichen, beautiful designs made by frost, bug eating bats, tree bark, flowers in winter, moderation, kindness, cooperation, modesty, top soil, salad bars, sunsets, fire engines, pliers, nail clippers, car treads, confidences, and yodeling.
I'm grateful for a capable dental hygienist. Nothing like a thorough teeth cleaning!
I'm grateful for new Dansko (Sanita) clogs.
I'm grateful for all our local branch church families (there is one shown below in the photos). I'm grateful to be discipling with all of them as we look outward and upward, with no limits in our thinking. I'm grateful for all those in other branch churches too, that are working to move Mary Baker Eddy's vision along. I'm grateful for Mrs. Eddy too of course, along with all past workers in the field of Christian Science. A glorious day is dawning!
I'm grateful for Ruth Bater Ginsberg. What a role model of a tenacious spirit!
I'm grateful for art materials. Thank God for pastels, paint, mediums, paper, colors, concepts, endless ideas. What a playground I would not want to be without!
I'm grateful our little group of veteran homeschooling moms are getting together monthly for dinner out to continue those relationships. It is good to continue to see them regularly.
I'm grateful to have been asked to write references for future career moves for both professional contemporaries and students. It's nice to have their trust and respect as I champion them onward.
I'm grateful for my high school abstract art students (see t-shirt photo below). I'll miss them this term, but am grateful I'll be teaching some abstraction workshops for adults this spring.
I'm grateful for elephants, lightbulbs, studying at my desk (photo), seeing the far distant hill from my office/studio now that the leaves are gone (photo)… for vanity plates, fabulous eggplant fries (photo), crystal, and gorgeous orange jeeps. I'm grateful for twinkle lights, clean laundry, Netflix, cultured pearls, kites that are used, audio books, mountains, sleds, homemade applesauce, and whatever is of good report.
I'm grateful for you, my dear blog readers. Thank you for being along with me on this adventure called life. You make me feel connected and less isolated. I'm grateful for every comment from you that you have found inspiration, rest, comfort, practical ideas, intrigue, or solace for your own days here. Together we make the world better, and I thank you for that.
Tell us in the comments some of your "grace notes!"