Announcing my New One Woman Show: The Fusion of Art and Spirituality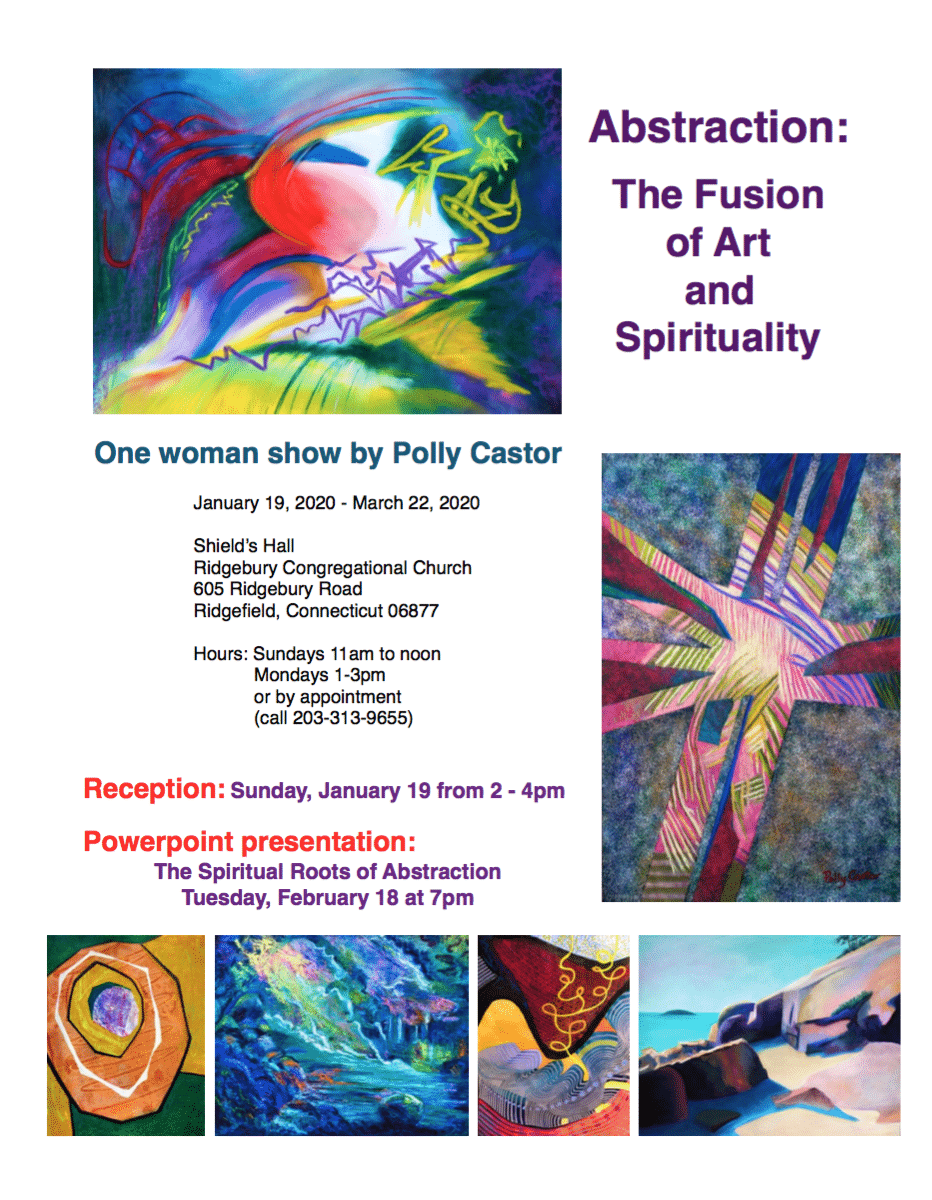 I'm excited to be mounting a new solo show, which will open with a reception on Sunday, January 19th from 2-4pm.
I was approached by a local Congregational church that wanted to host this show. It will be held in their two story parish hall. I'm excited by this venue for several reasons.
First, they were open to the topic of Abstraction the Fusion of Art and Spirituality, which you blog readers know is close to my heart. Second, they are also hosting in February a PowerPoint talk about that ,which will use my own art both to explain abstraction and its cross-section with spirituality. Third, while the hours are limited, the show will be there for a good amount of time, and I'm free to bring appointments through it anytime between January 19 and March 22. So if you can't make the reception or the talk, you can still see it; let me know if you need an appointment. Fourth, most of my large shows have not been local, so it is great that local folks can have such good access to seeing my art collectively outside our home. Lastly, it is wonderful that this was their idea, and they sought me out on this and proposed it. What a beautiful gift to fall right into my lap! I am very grateful to Ridgebury Congregational for this awesome opportunity.
If you've seen other of my shows, I'm pushing to have mostly new work in this one. It will be full of all sizes of paintings, including lots of new small ones, and it will include some pottery of mine as well.
If you are local, please come to the reception in January, and the talk in February. For those of you that are not local, I'll blog about the show and events to give you a glimpse, and meanwhile, I invite you to pray for it, especially regarding weather, attendance, and sales. Thank you, and I hope to be with some of you there soon!
(Above is the flyer I emailed around and is on town bulletin boards. Below, is the front and back of invitations I'm handing out to people.)