The Hare with Amber Eyes (Book Review)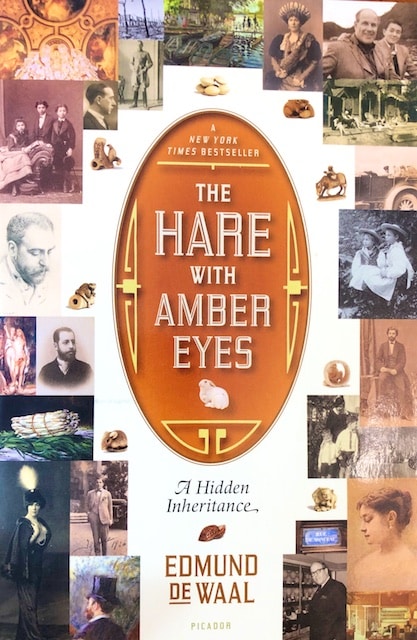 I enjoyed this non-fiction memoir very much.
It was written by a British ceramicist who inherited 264 Japanese netsuke's (small ivory or wood figurines) and was curious about them, so he researched their history with fascinating results. It turns out the original owner of the netsuke's was an ancestor who supported well known impressionists, buying scores of their paintings. Later owners were Jews in Vienna during World War II. Eventually, they miraculously end up back in Japan, before the author brought them to his home in England.
These small objects fuel and unfurl an amazing, true family story worth reading. The author writes in a detailed manner, using good language, and maybe sometimes a bit too much description. While non-fiction, it reads like a story because the author brings us along while he discovers his family's past. The first and last thirds are the best, while the middle is certainly worth getting through. Only because of that bit of middle lag do I knock The Hare with the Amber Eyes down to only four stars; otherwise it is a total gem.
If you are interested in history, this book is a great way to get a grand swath of it, about 150 years worth, all linked together by these tiny objects of art. You'll read of the Impressionists, and of all things Japanese being in vogue in Europe, follow a crazy wealthy family, hear about the Dreyfus Affair, of the Nazi's seizing precious legacies, a mid-century couple in Japan, a faithfully loyal maid, and a very diligently curious inheritor (the author).
Give it a try, you might find it engaging too! I love when history comes alive, and books like this one are all too rare.