Long Lake Artist-in-Residency Day 1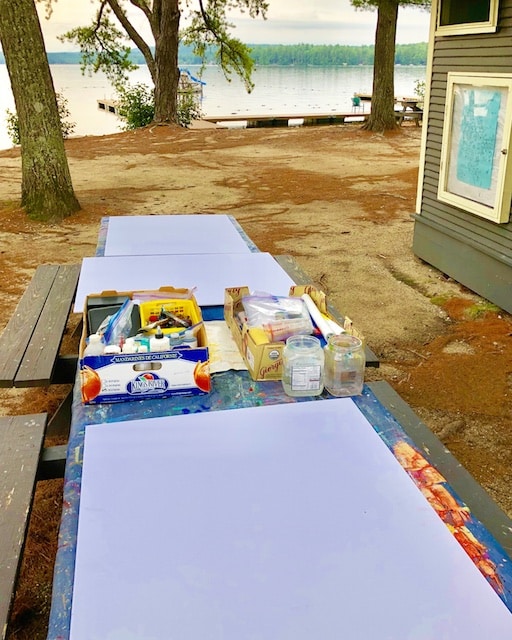 I am delighted to be back on Long Lake in Maine! Camp Newfound is a beautiful church camp on a peninsula with lake views in both directions. A summer camp for kids, it repurposes itself for a week-long creative bonanza for Christian Scientist adults at the end of the season. People come from all over the world for this feast of soul and warm, heart-filled community. The intersection between Christian Scientists and creative people is a wonderful place to be.
I have come for so many years, I have lost track, but I'm guessing it is sixteen. I've taken all sorts of classes in the past, and last year I taught here. But this artist-in-residency gig is the best!
Tuesday I drove up to Maine with my playwright friend from Brooklyn who is also a artist-in-residence, and we stopped on the way for a terrific lunch at the Sole Proprietor, which is a restaurant I love in Worcester, Mass. You can see those meals below. We arrived at camp to hugs, passing out cookies my husband had made.
Camp is a rustic place, and I plan to paint large abstract works outside. Below you can see my cabin, as well as the boxes of art materials I brought. Above is my set up for the week, and the weather looks like it will cooperate, yesterday being our least desirable weather. (I'll take more photos of these breathtaking surroundings as the week proceeds.)
First, I am starting on three large acrylic paintings as shown in this post. I also plan on doing some large pastel paintings on wet fiber paper. I so appreciate being able to paint multiple large things simultaneously, which I can't do at home.
My plans are very ambitious, and it is more like performance art here with everyone watching each step and me explaining as I proceed to passers by. So in that spirit, I thought I'd share with you each day as it unfolds, instead of only finished products at the end of the time. The last four photos in this post show where these works were by the end of yesterday. These are unfinished progress photos. The black and white under-paintings will later be covered with color, but will give depth and interest to what comes later. Sunday evening I give a presentation on what I've done, so there is not a lot of time in which to accomplish all I want to do.
I also signed up for improvisational singing with the incomparably marvelous Jenny Foster, so I am singing in the afternoons. Yesterday I led a morning inspirational meeting about God as divine Mind, and last evening I went to a wonderful testimony meeting where I talked about the joy and importance of sharing Science and Health with Key to the Scriptures, about how receptive all sorts of people are to it, and how life changing it can be. I'm spearheading a swim to Cherry Island, and games of Bananagrams too. (I am also taking work calls, emails and texts too, so feel free to reach out if you need me!)
I am very grateful for the opportunity to be here this week with these amazing people, enveloped in inspiring thoughts. It is so uplifting!