Today's Newspaper Article by me: Recognizing Good Around Us Helps Us Find More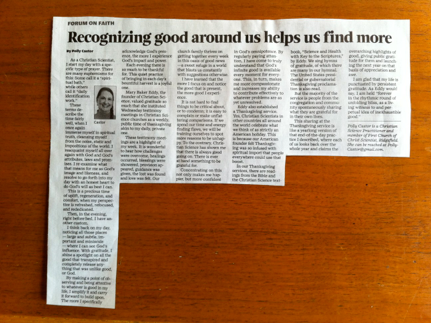 I am a regular contributor to the Danbury News Times Forum on Faith column, which is also picked up by the Connecticut Post and the Stamford Advocate.  Here is today's article:

As a Christian Scientist, I start my day with a specific type of prayer. There are many euphemisms for this: some call it a "spiritual bath," while others call it "daily identification work."  These terms describe this time fairly well, where I once again immerse myself in spiritual Truth, cleansing myself from the noise, static and impositions of the world.  I reacquaint myself all over again with God and His attributes, laws, and promises. I reexamine what that means for me as His image and likeness, and resolve to go forth into my day with an honest heart to do His will as best I can.  This is a precious time of uplift, regeneration, and comfort, where my perspective is refreshed, refocused, and rededicated.
Then, in the evening, right before bed, I have another custom.  I think back on my day, noticing all those places, large and subtle, important and minuscule, where I can see God's influence.  With gratitude, I shine a spotlight on all the good that transpired and completely release anything that was unlike good, or God.  By making a point of observing and being attentive to whatever is good in my life, I amplify it and carry it forward to build upon.  The more I specifically acknowledge God's presence, the more I experience His impact and power.  Each evening there is so much to be thankful for. This quiet practice of bringing in each day's bountiful harvest is a joyful one.
Mary Baker Eddy, the founder of Christian Science, valued gratitude so much that she instituted Wednesday testimony meetings in Christian Science churches, as a weekly, public time of thanksgiving akin to my daily, private one.  These testimony meetings are a highlight of my week. It is wonderful to hear how challenges were overcome, healings occurred, blessings were showered, provision appeared, guidance was given, the lost was found, and love was felt.  Our church family thrives on getting together every week in this oasis of good news, a sweet refuge in a world that blasts us constantly with suggestions otherwise. 
I have learned that the more I focus on and notice the good that is present, the more good I experience.  It is not hard to find things to be critical about, or to condemn; it is easy to complain or make unflattering comparisons. If we spend our time and energy finding flaws, we will be training ourselves to spot more reasons to be unhappy.  Contrariwise, Christian Science has shown me that there is always good going on. There is ever at hand something to be grateful for. 
Concentrating on this not only makes me happier, but more confident in God's omnipotence.  By regularly paying attention, I have come to truly understand that God's infinite good is available every moment for everyone. This, in turn, makes me more compassionate and increases my ability to contribute effectively to whatever problems are as yet unresolved.
Mrs. Eddy also established a Thanksgiving service.  Yes, Christian Scientists in other countries all around the world celebrate what we think of as merely an American holiday. This is because our American founder felt Thanksgiving was so infused with spiritual import that people everywhere could use that boost. 
In our Thanksgiving services, there are readings from the Bible and the Christian Science textbook, Science and Health with Key to the Scriptures by Mary Baker Eddy. We sing hymns of gratitude, of which there are many in our hymnal.  The United States presidential or gubernatorial Thanksgiving proclamation is also read.  But the majority of the service is people from the congregation and community spontaneously sharing what they are grateful for in their own lives.
This sharing at the Thanksgiving service is like a yearlong version of that end-of-the-day practice I described, where each of us looks back over the whole year and claims the overarching highlights of good, giving public gratitude for them, and launching the next year on that basis of appreciation and awe.
I am glad that my life is punctuated by persistent gratitude. As Eddy would say, I am held "forever in the rhythmic round of unfolding bliss, as a living witness to and perpetual idea of inexhaustible good."  Thank you God!
By Polly Castor, a Christian Science Practitioner, and member of First Church of Christ, Scientist, Ridgefield.  She can be reached at PollyCastor@gmail.com