Amazing Butternut Squash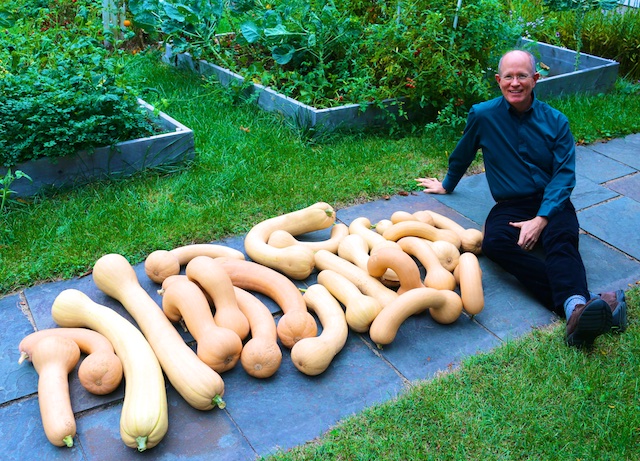 My husband got an amazing butternut squash harvest this year. Some are over 4 feet long, and yes, they still taste terrific that way. They are especially easy to cut since there are no seeds in those long necks. This set of seeds grew huge and prolific produce. If you want to send me your (USA) address, we'd be happy to send you some of the terrific seeds! Our crop amounted to over 250 pounds worth. I am grateful both for the provision and for the fact that we really enjoy it! 
Here are some links to former blog posts of mine that show what we will do with it, all of which would be great to serve for the holidays, or any fall/winter meal:
How to Easily Cut a Butternut Squash
 Recipe: Baked Winter Squash Soup
Recipe: Caramelized Butternut Squash (We often do this as well with olive oil instead of butter and omitting the brown sugar)
Recipe: Roasted Butternut Squash, Brussels Sprouts, and Cranberries
Recipe: Crock Pot Butternut Squash, Apples, and Cranberries
Recipe: Roasted Vegetable Frittata
Recipe: Winter Vegetable Fish Chowder
Recipe: Roasted Vegetable Salad (substitute kabocha squash for butternut squash)
I hope you make and enjoy these recipes!
Meanwhile, we have been eating away at it, but they are still prominently flanking my foyer, as you can see in the photos below. A new method of interior decorating, soon to become popular? Even though they are in the way and we have no better place to put them, they make me happy every time I see them. If you come to our church Christmas party here, you'll be eating them! But first there is Thanksgiving…