Recipe: Roasted Winter Vegetable Frittata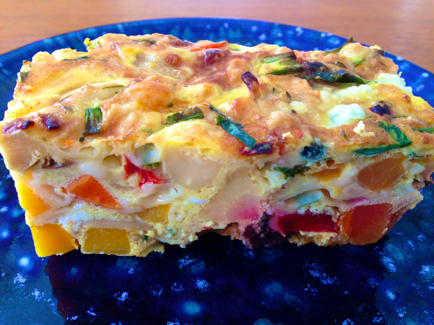 This is delicious and easy to make since the whole thing is done in the oven. This recipe has an advantage over the frittatas that start out on the stove and finish in the oven– it is less finicky and needs less supervision. As long as you make sure you roast the vegetables long enough that they are very soft but not burnt, you cannot go wrong. Any mix of winter vegetables is fine, but if using beets, they are better in this if they have already been pre-roasted and are just left overs. Shown in the photos are more than one of these so you can see different mixes of veggies I used. Just be sure to include either onions or shallots every time. This dish also makes wonderful leftovers to warm up for another meal.
Roasted Vegetable Frittata Recipe

1 1/3 pounds of winter vegetables (I use shallots and/or onions, carrots, parsnips, rutabaga, butternut squash, red peppers, turnips, previously roasted beets, etc)
2 large cloves of garlic, minced
3 tablespoons of olive oil
sea salt and freshly ground pepper
7 large eggs
a handful of herbs: parsley, chives, and/or thyme, chopped
1/2 a dried hot pepper, minced seeds removed
1/2 cup hard cheese, grated (I use goat's milk cheddar)
2 Tablespoons grated Parmesan

Preheat the oven to 375˚F
Peel and chop the vegetables, and place in a 9"x9" baking dish. Add in the garlic, olive oil and liberally add salt and pepper. Stir well and place in the oven until all the vegetables are soft and starting to caramelize, stirring intermittently, for about an hour.
Beat the eggs together with the chopped herbs, the hot pepper, and some salt and fresh pepper. Mix in half the hard cheese.
Remove the pan of roasted vegetables from the oven and add the egg mixture and lightly stir it together. Top with the remaining hard cheese and Parmesan. Return to the oven for 10 to 15 minutes until the egg is set and the top is starting to brown. At the end you can switch the oven to broiler for the last couple minutes if you want it to brown more.