House, Gardens, and Art at Hill-Stead Museum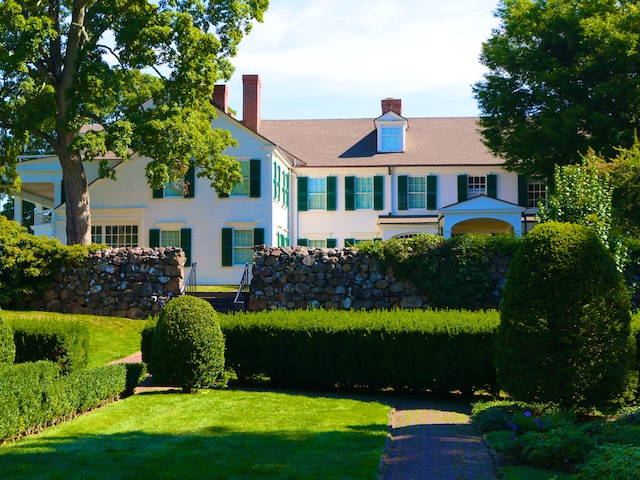 I visited Hill-Stead Museum to plein air paint with a group a couple years ago (see blog post here) and I always wanted to return to take a tour of the house. I finally got to do that last week with Sandi, a fellow blog reader of yours, who turned me on earlier in August to the remarkable Yale University Galleries. We have bought a $25 Connecticut Art Trail Passport that gives us entrance to any Connecticut museum in the next calendar year.
The interior of this house is a colonial revival replica, designed to look added onto over the years, but it was actually built new that way. The architect was the wealthy owner's daughter, trying her hand at designing and building, to see if she liked it. It turns out she was very good at it, and went on to become one of the earliest successful women architects on the east coast. The tour of the spaces was interesting because of the lovely architecture, the amazing art collection, but also because of this woman architect's life story. She was surprisingly progressive for her time, was encouraged to be very independently minded, and ended up inheriting the house, living there all of her adult years.
The family went on a grand tour of Europe, where they bought their art collection. The stark portrait by Manet of the girl in the white dress with the guitar was the most expensive painting they bought; they paid $12,000 for it. But you are more likely to recognize the several Monet's, Degas', and Winslow Homer's in their collection. Unfortunately we were not allowed to take photos in the house so I cannot share with you how well they fit into their surroundings, but I did take the liberty on your behalf to photograph some postcards of the artwork, which are shown below for your reference.
It was fun to see the gardens and the tree I painted previously in a different season than when I painted it. I also enjoyed hearing they have an annual poetry festival in the gardens, so I may be returning to hear that! Anyway, if you haven't seen this small gem, it is definitely worth the short amount of time it takes to see it. Check it out the next time you are traveling along I84 west of Hartford.