Recipe: Garlicky Open-Faced Avocado and Egg Sandwich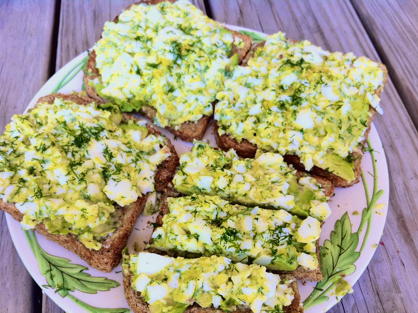 These are so good I could eat them everyday! Above, I made them for three of us, so I cut the last one into thirds for us to share. These also could be cut further to make great appetizers…
Open-faced Garlic and Avocado Egg Sandwich
2 tablespoons plain yogurt (we use Greek)
salt and pepper
2 tablespoons fresh dill or chives
4 extra thin slices of artisan whole grain bread
(We use Ezekiel 4:9 Sprouted Grain bread)
a bit of butter
1 garlic clove, peeled
4 large hard boiled eggs: cooled and peeled
one ripe avocado, sliced in slivers
Combine yogurt, a couple pinches of salt, a small pinch of pepper, and most of whichever herb you choose, in a small bowl.
Toast bread until it is deeply golden, and then butter each one. Take the garlic clove and rub it on both sides of each slice of toast, butter side first and then the dry side.
Coarsely chop the eggs and mix them into the yogurt mixture. Place 1/4th of the avocado slivers on each piece to buttered toast, and mush it around a bit with a knife to spread it slightly. Top the avocado with 1/4 of the egg/yogurt mixture, and sprinkle with the rest of the herbs and a bit more salt.
Delicious! Enjoy.